ROHM Semiconductor has developed a dedicated and efficient power management chip (PMIC) "BD71837MWV" for the i.MX8M Family of NXP Semiconductors. "i.MX 8M Family" is an industry-leading application processor for music, voice, and video processing. Its applications range from home IoT audio and video equipment to industrial smart buildings and mobile computers.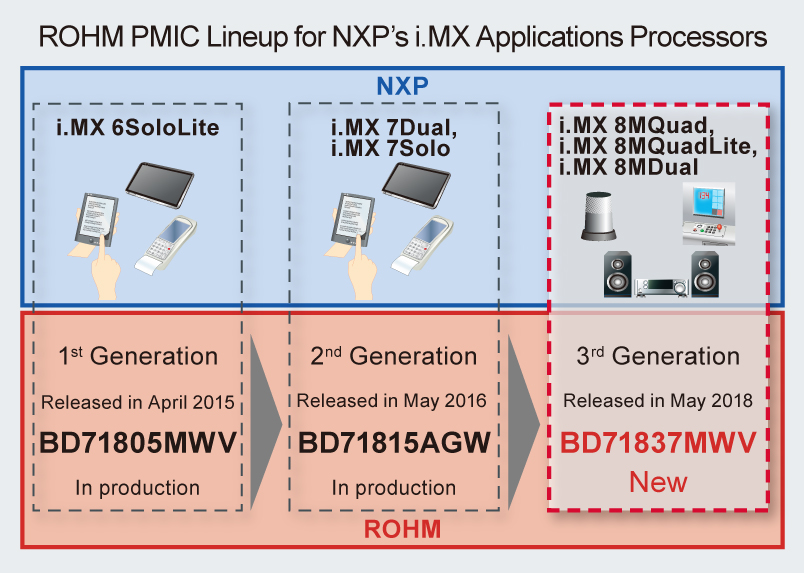 "BD71837MWV" is a PMIC developed using the power supply technology (Power Rail) and functions required by the i.MX 8M Family. In addition to DC/DC converters with 95% maximum power conversion efficiency, the power and protection functions required by the system are also integrated in a single chip. Furthermore, because the i.MX 8M-dedicated power switch sequencer is built in, it not only realizes miniaturization, but also simplifies application design and greatly reduces development time.
Leonardo Azevedo, senior marketing director of i.MX at NXP, said: "ROHM is a very important partner in the development process of i.MX. i.MX 8M uses the "BD71837MWV", which is for customers with a single chip power solution needs It is the most suitable component. "This product has already begun sample shipments in June 2018 (800 yen per sample price / no tax), and plans to start mass production of 400,000 wafers per month in October 2018. The manufacturing base of the first-stage process was carried out at ROHM Hamamatsu Co., Ltd. (Kunihama City, Japan), and the manufacturing base of the post-process was at ROHM Electronics Philippines, Inc. (Philippines).