Infineon will hold the Sensor + Test 2018 Fair in Nuremberg from June 26th to 28th and will introduce the new XENSIV TM TLE5501 angle sensor series at the show.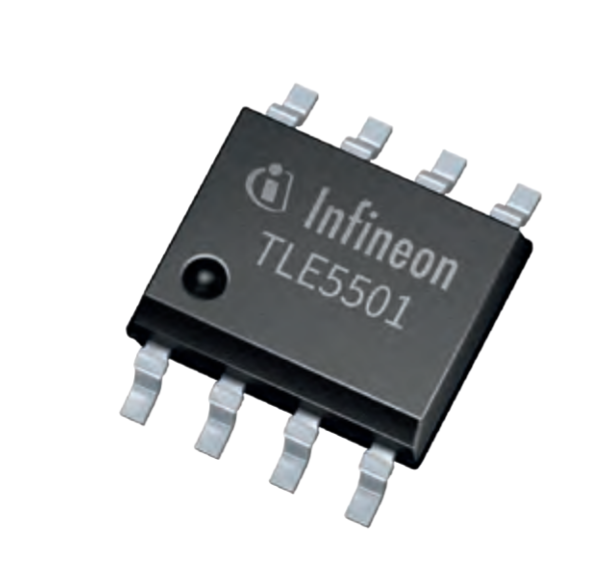 It is understood that this product is a fast analog TMR angle sensor dedicated to automotive applications. The application area is wide ranging, from the steering angle with the highest functional safety requirements to wipers, pumps and actuators as well as motors. They are also suitable for industrial and consumer applications such as robotics or universal joints.
TMR technology provides high sensing sensitivity with high output voltage and can achieve up to 0.37 V / V output signal for all XENSIV TLE5501 products. Unlike other technologies, TMR-based sensors can be directly connected to the microcontroller without further amplification, saving customers cost. In addition, TMR shows very low temperature drift, reducing external calibration and compensation. In addition, TMR technology is known for its low current consumption, and the current consumption of the XENSIV TLE5501 series is as low as 2 mA.
The new sensor series will be available in two different qualification levels. TLE5501 E0001 is certified according to AEC Q100. This version is pin-compatible with the established Infineon TLE5009, but a cheaper system can be implemented because no additional amplifiers are required. Another version of the TLE5501 E0002 provides development in compliance with the ISO26262 standard and requires only one chip to implement the ASIL D level. It contains decoupled bridges for redundant external angle calculations and provides the highest diagnostic coverage required by functional safety regulations.
Infineon will begin mass production of the XENSIV TLE5501 series in August 2018.