According to a recent report by Counterpoint, since the second half of 2020, the global semiconductor supply chain has been subject to severe capacity constraints due to the backlog of demand in different industries. Foundry capacity remains largely booked with fully-loaded utilization rates across different process nodes. Counterpoints' checks suggest some IC design companies have already experienced 30-40% price hikes in certain product categories in 200mm foundries when compared with H2 2020.
The report shows that TSMC has raised its 2021 capital expenditure target to 30 billion U.S. dollars (from the previous guidance of $25-28 billion in January 2021), with 80% of this being meant for advanced node investments (3/5/7 nm), 10% for advanced packaging services and 10% for specialty technologies.
During the Q1 2021 earnings call, TSMC also reaffirmed its $100-billion capex plan for 2021-2023, mainly supported by customers' promising outlook and commitments, which could translate into 10-15% CAGR of the USD revenue during 2020-2025.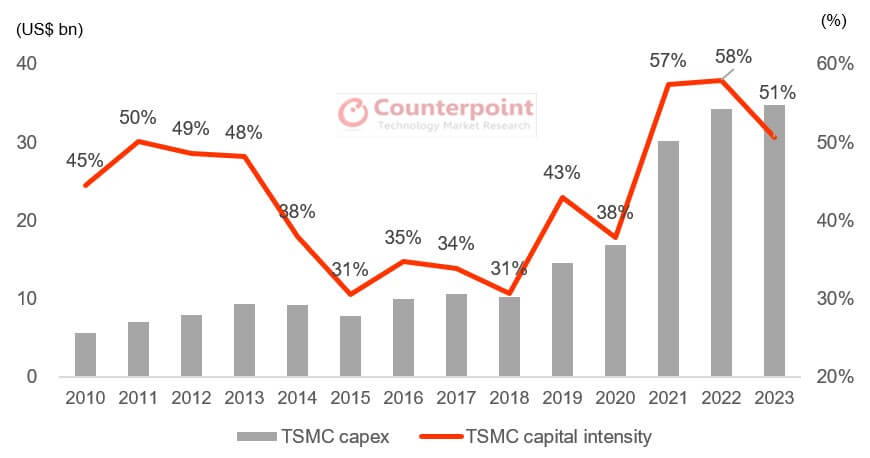 However, the report pointed out that TSMC and Intel have both highlighted that the overall semiconductor demand-supply mismatch will continue until the end of 2022, with capacity expansion failing to keep up with the skyrocketing demand, especially at certain mature process nodes. In general, the semiconductor industry is going through a significant structural demand shift. Therefore, both foundries and customers are on the same page in maintaining a higher inventory level to deal with uncertainties.
Counterpoint stated in the report that Migration from 200mm to 300mm in the past few years has been too slow to eliminate supply constraint risks on mature nodes. Now, foundries are getting less support from the 200mm equipment vendors. Therefore, with the capacity failing to fulfill incremental orders and demand popping up in the short term, price hikes will emerge. We have even witnessed 30-40% price hikes on specific process nodes, apart from a generally 10%+ extra cost to design houses.
Unfortunately, this rise in prices will not stop in 2021. In order to secure 2022 capacity, design houses are negotiating with foundries. Counterpoint foresees at least 10-20% higher costs there.
In terms of sales growth drivers, Counterpoint believes that smartphones will continue to play an important role for at least three years due to the 5G smartphone replacement cycle. Nevertheless, smartphone shipments growth has decelerated in recent years and is no longer sufficient to justify an aggressive capex plan and a robust sales growth outlook from foundry vendors.
Counterpoint also believes that high-performance computing (HPC) will step forward and consume a lot of new capacity for several years, mostly driven by emerging AI applications, connected devices, virtual reality/augmented reality and intelligent manufacturing. These segments require unprecedented computing power in both communication infrastructures and cloud data centers. Intel says nearly every application is now infused with artificial intelligence and machine learning. Global hyperscale data center vendors and cloud solution providers have put a lot of resources into capacity expansion. Counterpoint believes this trend will continue to enhance computing power to support the sharp growth in HPC demand.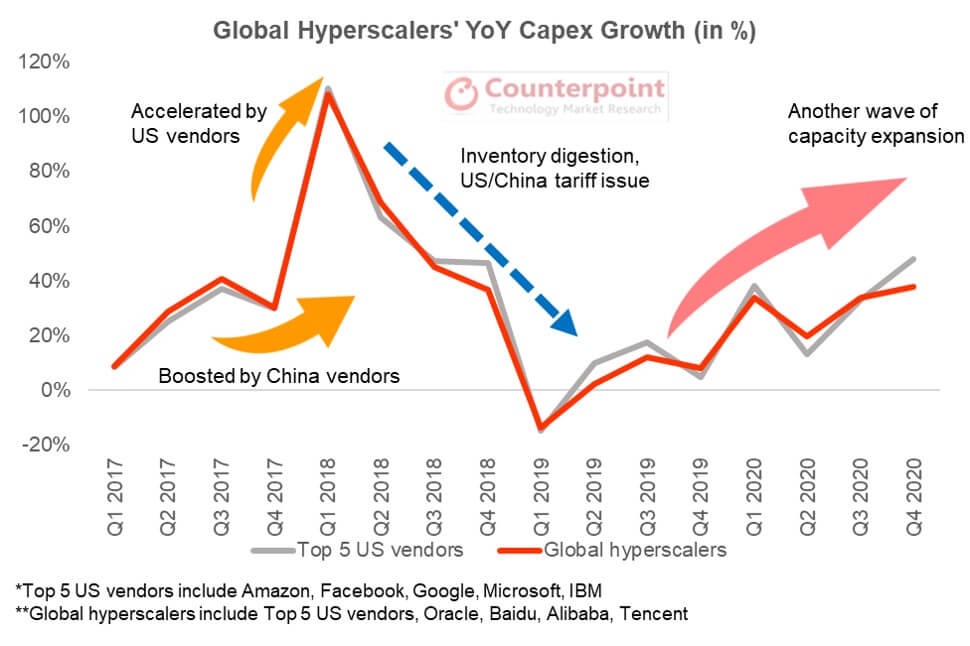 Among the other sectors, automotive-related categories (electric vehicles, autonomous driving, charging devices) are expected to gradually become semiconductor-consuming giants on increasing semi content per car and the V2X (vehicles to everything) ecosystem. TSMC has already marked the automotive market to be its top priority in the upcoming years though it only accounted for 4% of its total revenue in Q1 2021 (against 45% from smartphones and 35% from HPC).
The Counterpoint report concluded that the foundry cost hike in 2021 has largely settled down while another price increase for 2022 is already around the corner. Design houses are in the process of negotiating foundry costs and capacity quota with chipmakers. Counterpoint expects the demand-supply imbalance to last for another year, along with another round of price hikes of at least 10-20% in 2022.