On May 31, IC Insights pointed out in the latest report that the sensor and actuator market has cooled down after two years of strong growth due to declining inventory, reduced shipments and economic uncertainty.
In 2018, inventory adjustments, reduced smartphone shipments and reduced purchase orders limited sales of semiconductor sensors and actuators. After experiencing strong growth in 2016 and 2017, although sales of sensors and actuators reached a new high of $14.7 billion in 2018, the growth rate was only 6%.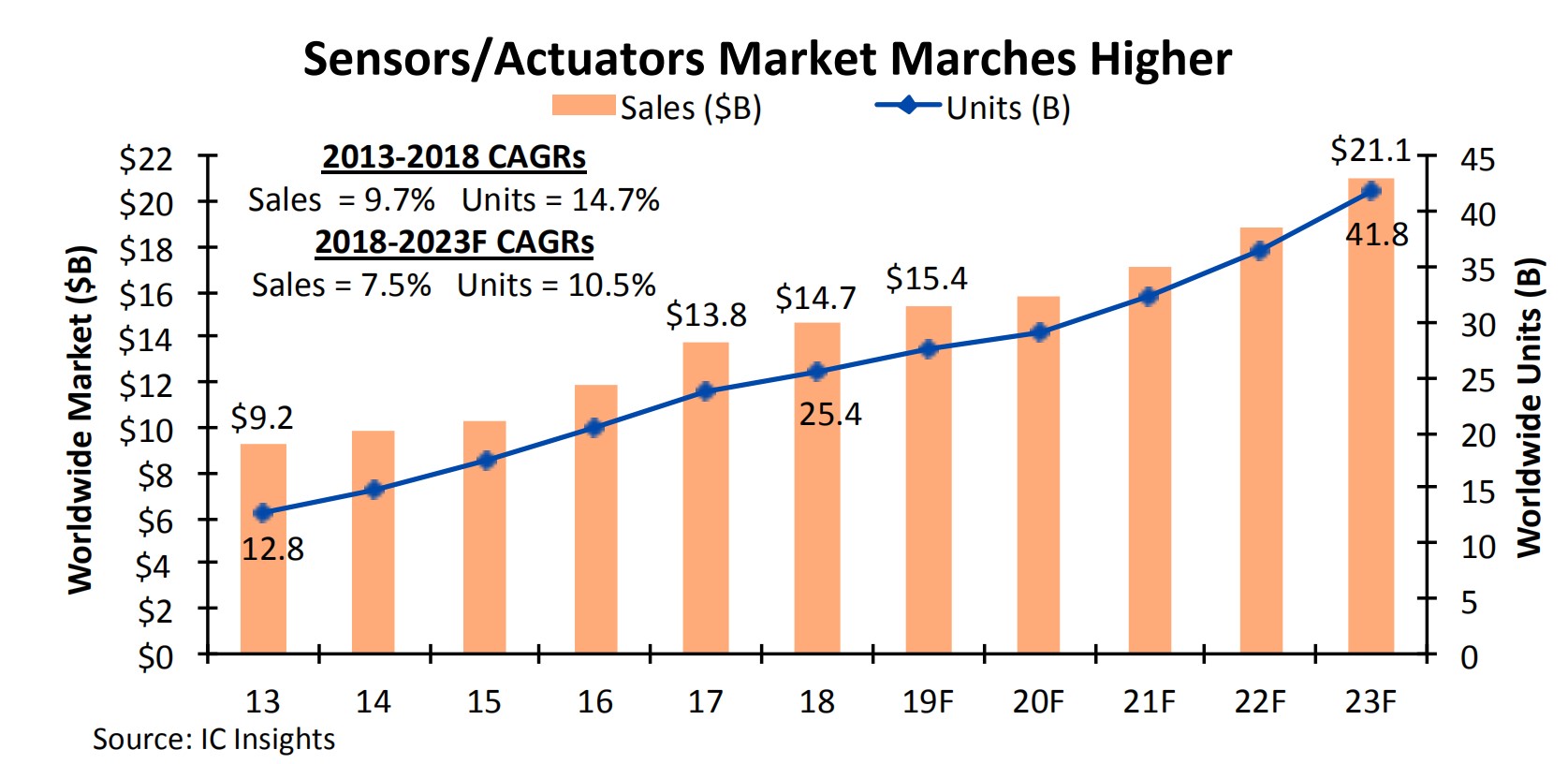 According to IC Insights, total sensor sales in 2018 increased by 8% to a record $9.1 billion. Actuator revenues rose 4% last year to a record high of $5.5 billion, while the market grew 18% in 2017 and 19% in 2016.
It is understood that about 83% of the sales of sensors and actuators ($12.2 billion) in 2018 came from the adoption of microelectromechanical systems (MEMS). MEMS are used in pressure sensors (including microphone chips), accelerometers, gyroscope devices, and almost all actuators. In terms of categories, pressure sensors led sales growth in three major sensor categories, growing 13% to $3.3 billion in 2018; followed by acceleration/yaw sensors (accelerometers and gyroscopes), which increased by 4% to $3.4 billion; magnetic sensors (including electronic compass chips) increased by 4.0% to $2 billion.
In the first quarter of this year, global sales of sensors and actuators increased by only 2% compared to the same period last year, but the semiconductor market is expected to recover strongly in the next six months. IC Insights predicts that sensor and actuator sales will grow by 5% in 2019, reaching a record high of $15.4 billion.
Due to the weak global economy, IC Insights reports that global sales of sensors and actuators are likely to slow to 3% in 2020. It will gradually resume its growth momentum between 2021 and 2023, and is expected to reach $21.1 billion in 2023.