During the Electronica exhibition in Shanghai, China, TDK held an annual press conference. At the meeting, Mr. Asanuma Toshihide, General Manager of TDK China introduced the status quo, development focus and future work focus of TDK.
TDK was founded in 1935 and has been established for 84 years. Headquartered in Tokyo. TDK currently has operations in more than 30 countries around the world, with more than 200 locations, including factories, sales offices, research and development centers.
Asanuma Toshihide said that TDK has been able to stand for more than 80 years because the company has been changing and meeting the different needs of various times. Taking TDK's product history as an example, starting from ferrite materials, TDK's basic core business has always been passive components; since the 1990s, the tape business has grown rapidly; after 2000, hard disk head related business began to develop rapidly; in 2010, the battery business grew rapidly. After 2020, TDK will focus on the main business direction of passive components, batteries and sensor systems.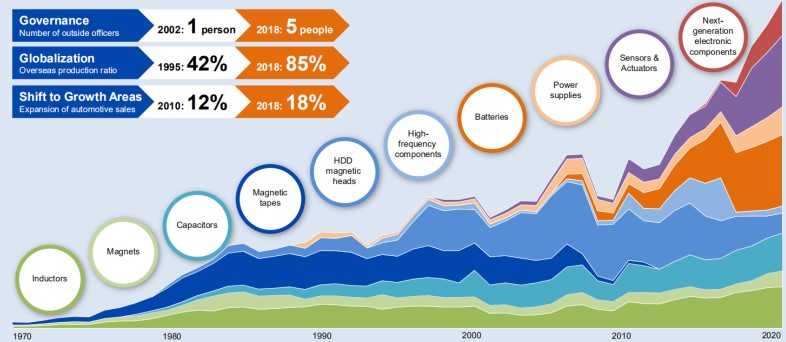 In order to meet the different needs of the market, TDK actively expands its external acquisitions. Through the acquisition of Lambda, EPCOS, Micronas, Chirp, InvenSense, etc., to expand the market space in other product areas.
TDK's globalization
At present, 85% of TDK's business income comes from non-Japan regions. The main reason is that TDK is actively expanding its globalization.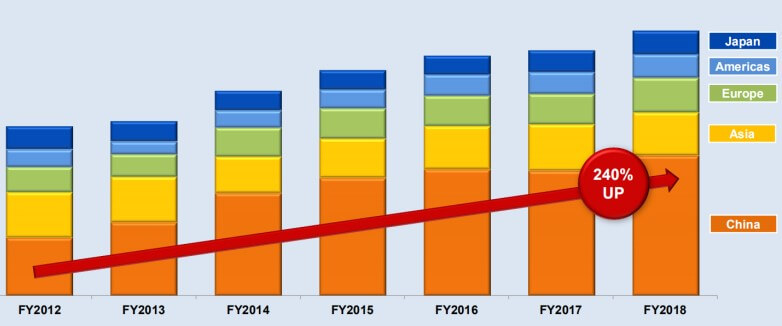 Asanuma Toshihide said that compared to 2012, China's performance in 2018 increased by 240%, accounting for more than 55% of TDK's overall revenue, while about 50% of China's business is serving local Chinese customers and local design. .
"We strive to achieve design in China, manufacturing in China and sales in China," said Asanuma Toshihide. "At present, we have 38 companies and 63 factories in Greater China, with more than 70,000 employees."
TDK's next step: digital and energy efficient transformation
Asanuma Toshihide said that TDK will continue to meet the needs of its customers by integrating superior manufacturing with the best solutions for their needs.
"Our goal is not only to become a supplier of electronic components, but also to be a world-class solution provider." Asanuma Toshihide said, "We believe there are two main trends in the future, one is digital transformation and the other is energy transformation. For digital transformation, TDK can help massive data processing through sophisticated passive components and sensors. For energy transformation, TDK can provide battery power conversion modules and high-performance magnets."