Nexperia has announced the industry's first AEC-Q101 compliant MOSFET in an AOI-compatible DFN2020 package measuring just 2 mm x 2 mm, smaller and lighter than the SOT223 and SO8 packages.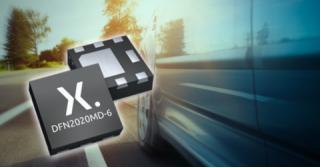 Many leadless packages are currently not detectable by using AOI technology., so Nexperia pioneered the development of a DFN2020 package solution with side-wettable flanks (SWF), which is a proven and approved solution.
"The DFN package with side-wettable flanks is gaining significant traction with automotive manufacturers as it saves space and can be automatically inspected. Our new 175 °C parts are being used in under-the-hood applications, especially near the engine or gearbox. The unique offering of an automotive-grade MOSFET that is both qualified to 175 °C and which incorporates side-wettable flanks makes the DFN2020 additionally suitable for a wide range of medium-power automotive applications," said Malte Struck, Product Manager, Nexperia Small Signal MOSFET.
For more information on this product, please refer to the official website of Nexperia: https://efficiencywins.nexperia.com/efficient-products/DFN2020-Automotive-MOSFETs.html