STMicroelectronics launches new high-stability MEMS sensor
ST will launch a new high-stability MEMS sensor for the industrial market this year, fulfilling its commitment to promote the development of advanced automation and Industrial IoT markets. At the same time, the company will also provide new products with no less than 10 years supply guarantee.
IIS3DHHC is the first sensor to appear in 2018. As a high-resolution, high-stability 3-axis accelerometer, the IS3DHHC ensures measurement accuracy even when it is operated for long periods of time or in a highly temperature-sensitive environment. This product is mainly suitable for antenna positioning systems for communications systems, structural health monitoring (SHM) equipment to ensure the safety of buildings and bridges, and stabilizers or equalizers used in various industrial platforms. Excellent accuracy stability and durability make it ideal for high-sensitivity angle sensors and safety sensors, as well as DSC camera anti-shake system.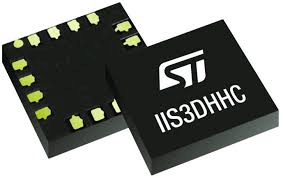 ST's 10-year supply commitment guarantees the continuous supply of a wide range of high-performance components that are widely used in industrial equipment. It also helps equipment manufacturers solve the problem of long product life cycle and is challenging. Products under industrial environmental conditions have extended service life. In addition to industrial sensors, the program also covers a range of STMicroelectronics STM32 microcontrollers, motor drives, analog devices, power converters, LEDs and existing MEMS sensors. The company promises to provide these products with at least 10 years Continuous supply.
"To create high-quality industrial sensors, STMicroelectronics has increased its investment in MEMS design and high-yield manufacturing processes, allowing customers to have ultra-high-performance products at a lower cost. The new products are ideal for those with high accuracy and reproducibility. Andrea Onetti, Vice President of MEMS Sensor Products, STMicroelectronics, said, "We will continue to introduce new industrial-grade precision sensors in the coming months, including all-in-one sensors. Sensors and full-featured inertial measurement modules, these new products will be included in our commitment to supply ten years."