According to the latest report released by IC Insights, global IC shipments are expected to decline by 3% in 2020, which means that after a recession of 6% last year, IC shipments will again fall into a downturn this year.
According to the report, 2019 and 2020 may become the first consecutive two-year recession in the history of IC shipments.
According to a survey by IC Insights, the years in which IC shipments have declined in history are 1985, 2001, 2009 and 2012. In the previous year of each recession, IC shipments have increased by different degrees. Among them, shipments increased by 50% in 1984, and shipments increased by 27% in 2000.
IC Insights pointed out that from 2013 to 2018, IC shipments have been on a steady growth trajectory. Among them, 8% growth in 2013, 9% growth in 2014, 5% growth in 2015, 7% growth in 2016, 15% growth in 2017, and 10% growth in 2018, and after substantial growth in 2017 and 2018, 2019 saw the fifth shipment decline in history.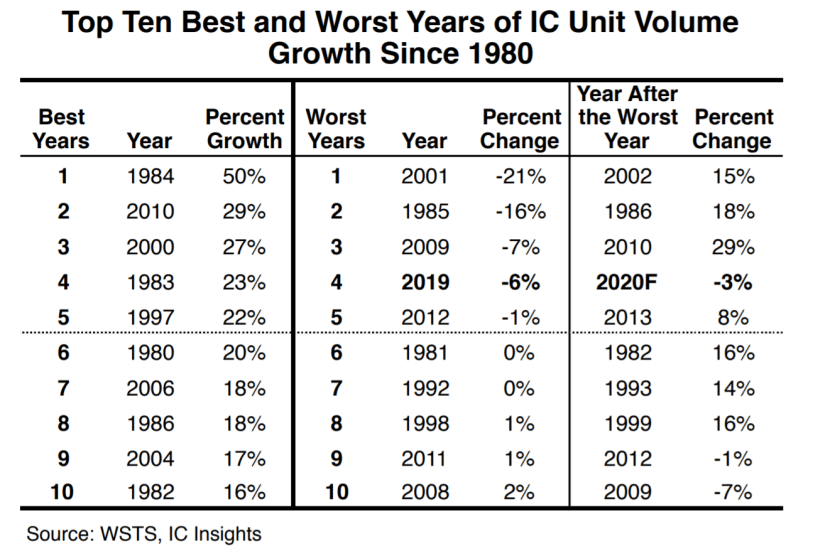 IC Insights pointed out that the COVID-19 pandemic makes the market prospects full of uncertainty, and it will be more difficult for the IC industry in 2020. In this regard, IC Insights' baseline forecast for global IC market growth in 2020 is currently -4%, and it is expected that overall IC shipments will decline by 3% this year.