Recently, IC Insights lowered its forecast for this year's memory chip market, which is expected to be the same as 2019, lower than the previous forecast of a 14% increase.
IC Insights pointed out that the weakness of the DRAM market suppressed the overall memory chip market growth in 2015 and 2016, but as the DRAM and NAND Flash markets recovered in 2017 and 2018, the overall memory chip market grew by 64% and 26% respectively. But after two years of strong growth, the memory chip market reversed in 2019. According to IC Insights statistics, revenue in 2019 declined by 32% to $110.4 billion.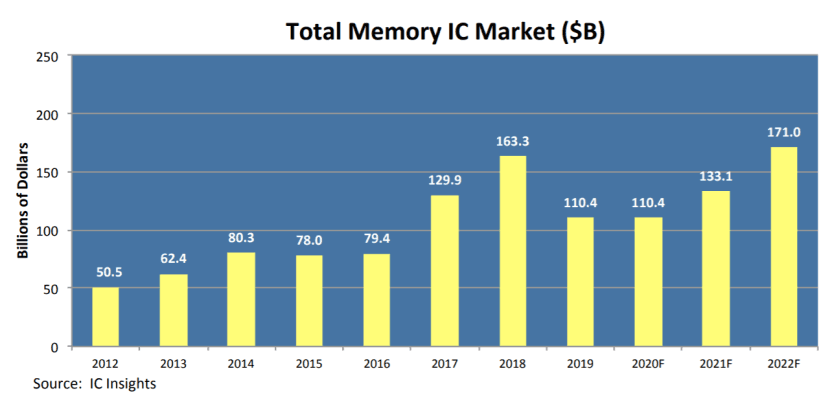 Previously, IC Insights was optimistic about the memory market this year, and the forecast at the time was that it would grow by 14% in 2020. However, because of COVID-19, the outlook for this year's memory chip market has become more conservative and is expected to remain the same level as last year.
In addition, IC Insights predicts that the memory market will grow strongly by 21% next year, with revenue of $133.1 billion, and 2022 is expected to exceed the record of $163.3 billion set in 2018, reaching $171 billion.