According to the latest report from TrendForce, the output of the world's top ten foundries continued to decline in the second quarter, with a quarter-on-quarter decrease of approximately 1.1%, reaching $26.2 billion.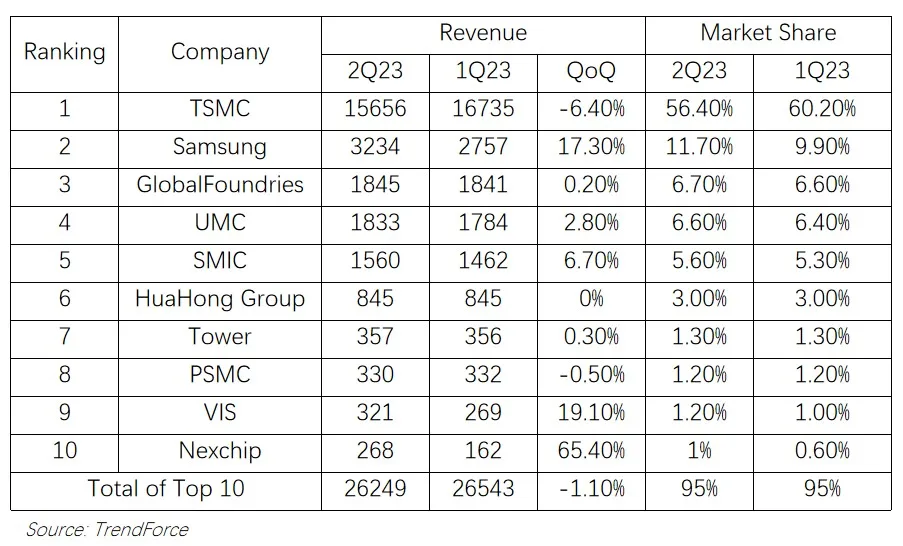 TrendForce said that weak demand for mainstream consumer products such as smartphones, PCs and laptops has led to continued sluggish production capacity utilization of high-priced advanced processes. At the same time, steady demand for automobiles, industrial controls, servers, etc. has entered an inventory correction cycle. A small number of urgent orders appeared in the supply chain in the second quarter, which became the main driving force supporting wafer foundry capacity utilization and revenue in the second quarter.
In terms of manufacturer rankings, TSMC ranked first with revenue of $15.66 billion, a quarterly decrease of 6.4%. Samsung ranked second with revenue of $3.23 billion, a quarterly increase of 17.3%. GlobalFoundries ranked third, with a quarterly increase of only 0.2%, about $1.85 billion. Its revenue from smartphones and automotive fields has grown, while network communication has shrunk.