According to the latest report from IC Insights, in 2021, Texas Instruments continued to hold the top position among the top ten analog chip suppliers in the world with $14.1 billion in sales and a 19% market share.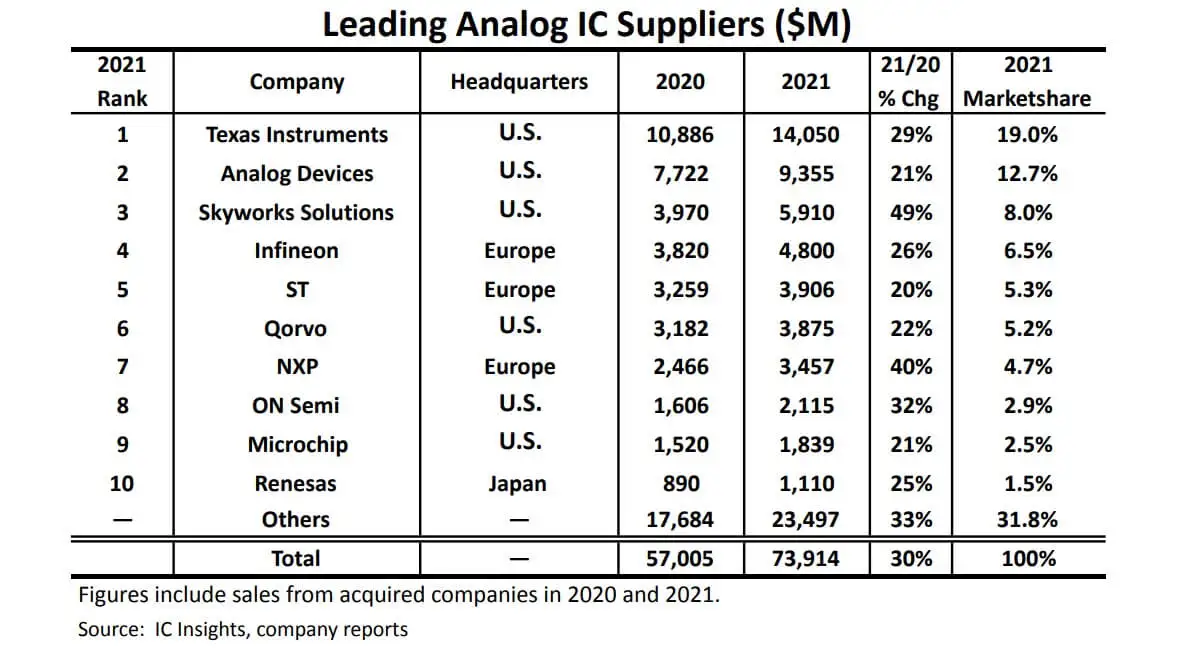 Overall, in 2021, the top 10 analog chip makers had combined sales of $50.4 billion and a market share of 68% of the entire analog market. TI's analog chip sales rose 29% from 2020, with No. 2 ADI up 21% and No. 3 Skyworks up 49%.
In 2021, both ADI and Skyworks have completed significant acquisitions, with the former acquiring Maxim and the latter acquiring Silicon Laboratories' infrastructure and automotive businesses for $2.75 billion.
Infineon, ST and NXP will together account for 16% of the global analog chip market share in 2021, with Infineon ranking fourth, ST fifth and NXP seventh. At the same time, Infineon's share in the automotive sector continues to grow, from 41% in 2020 to 44% in 2021.
IC Insights points out that in general, the analog chip market is growing more slowly than the overall integrated circuit market. But in 2021, the analog chip market grew by 30%, higher than the 26% of the integrated circuit market. In addition, each general-purpose and application-specific analog product segment achieved double-digit sales growth. Signal conversion revenue rose 13%, and all other analog IC categories grew at least 27%.