According to the latest report released by Strategy Analytics, Infineon replaced NXP as the top automotive semiconductor supplier. In addition, StrategyAnalytics estimates that automotive semiconductor supplier revenues will fall from US$37.2 billion in 2019 to US$35 billion in 2020, a year-on-year decrease of 6.0%.
The report shows that the world's top five suppliers Infineon, NXP, Renesas, Texas Instruments and STMicroelectronics accounted for nearly 49% of the global automotive semiconductor market in 2020. On the other end of the scale, the "Others" category includes over 45 companies that account for around 16% of the 2020 automotive semiconductor market.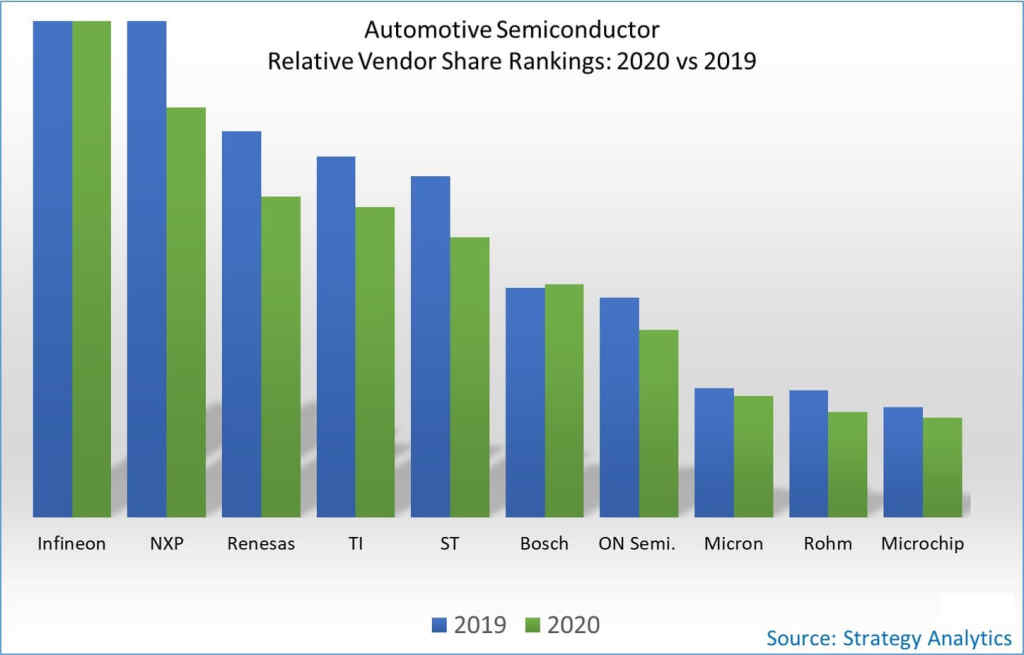 According to the research, Infineon was the only company in the top five to demonstrate growth in both revenue and market share with the Cypress Semiconductor acquisition helping to consolidate Infineon as the number one automotive semiconductor supplier.
The 2020 global market for automotive semiconductors was impacted by the global COVID-19 pandemic in the first half of the year, but pent-up demand initiated a strong recovery allowing automotive semiconductor vendors revenues to grow strongly and minimizing the overall year-on-year decline.
Strategy Analytics pointed out that while the overall semiconductor shortage may last into 2022, there are indicators that the situation for the automotive industry will start to see signs of improvement from Q3/Q4 onwards and the automotive semiconductor industry is positioned to enjoy a period of sustained growth in revenue and profitability for 2021 and extending into 2022.