According to IHS Markit reported on the 27th, the market uncertainty and the sharp decline in average selling prices will cause the DRAM market to fall 22% year-on-year in 2019, reaching only $77 billion.
Micron has announced a 5% reduction in production. "In the face of stagnant demand, Micron's recent decision to cut production of memory chips is not surprising," said Rachel Young, deputy director of IHS Markit. In fact, most memory chip manufacturers are taking steps to manage supply and inventory levels to meet weak demand.
IHS Markit predicts that DRAM supply and demand growth will remain within 20% in the next few years, maintaining a general market balance. However, as servers and mobile devices are ahead of demand categories, periods of oversupply and undersupply are expected.
In the long run, the market demand for server DRAM is strong, especially from Amazon, Microsoft, Facebook, Google, Tencent, Baidu, Alibaba and other big companies, which means that the server market will grow from 28% in 2018 to over 50%. Since 2016, smartphone shipment growth has slowed significantly, but smartphones are still the second-ranked DRAM market. From 2019 to 2023, an average of 28% of DRAM demand will come from smartphones.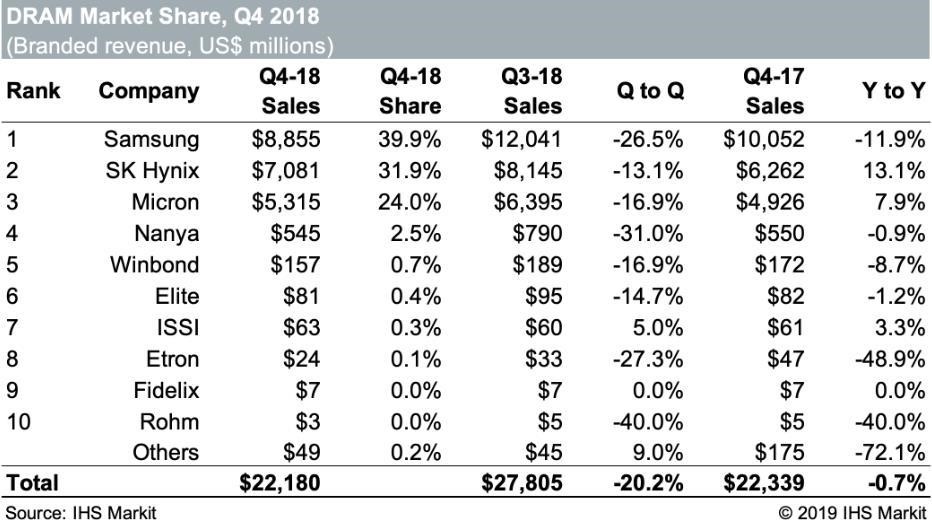 In addition, Samsung continues to lead in DRAM production capacity, but the gap between other manufacturers in the fourth quarter of 2018 is small. Samsung released its first quarter earnings warning for 2019 as it faces a challenging semiconductor environment, especially in terms of DRAM pricing pressures. Despite this, in the fourth quarter of 2018, Samsung had a 8% market share over SK hynix and was 16% ahead of Micron Technology.
According to IHS Markit statistics, Nanya Technology and Winbond Electronics rank the fourth and fifth largest DRAM manufacturers in the world respectively, and the market share in the fourth quarter of 2018 is 2.5% and 0.7% respectively.