According to a report released by TrendForce on September 3, GaN power devices will achieve annual revenue of $83 million in 2021, an increase of 73% year-on-year. It is estimated that by 2025, the market size of GaN power devices will reach $850 million, with a compound growth rate of 78% from 2020 to 2025.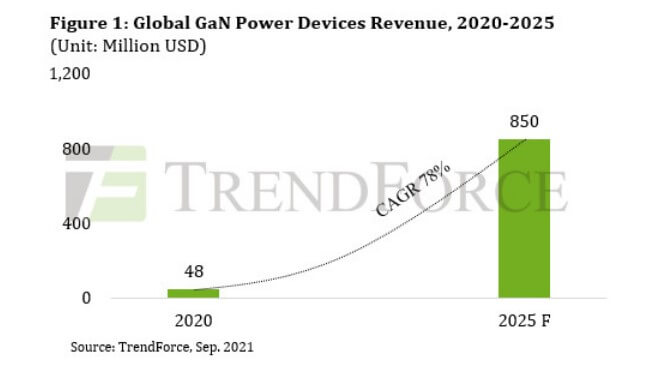 The report pointed out that consumer electronics, electric vehicles, communications and data centers are the three main application areas of GaN power devices, accounting for 60%, 20% and 15% respectively. TrendForce finds that about 10 smartphone OEMs have released more than 18 models of smartphones equipped with fast charging capability, while notebook manufacturers are also indicating a willingness to adopt fast charging for notebook computers.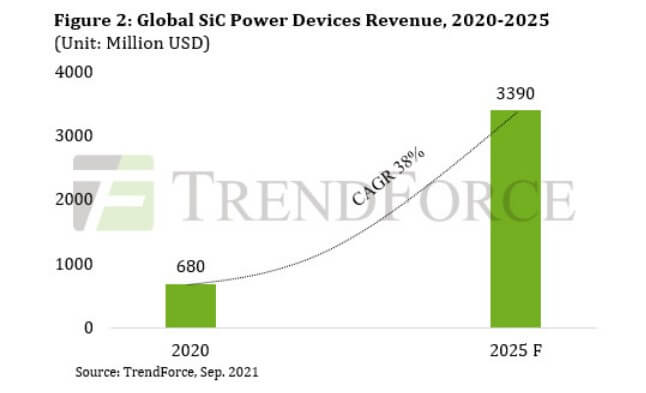 Trendfore's report predicts that the annual revenue of SiC is expected to grow at a 38% CAGR and reach US$3.39 billion in 2025, with NEVs, solar power generation/storage, and charging stations representing the top three largest source of SiC power device consumption, at 61%, 13%, and 9%, respectively. For the NEV industry, in particular, SiC power devices are most widely used in powertrain inverters, OBCs (on board chargers), and DC-DC converters.