Yesterday, IC Insights released the latest report showing that the monthly average selling price (ASP) of DRAM started on a steep downward trend in the second half of 2018 that eventually bottomed out at $3.04 in December 2019.
The Covid-19 outbreak has driven online education's growing demand for memory in personal and corporate computing systems. Accordingly, the monthly average price of DRAM climbed to US$3.70 in June 2020, and then gradually dropped to US$3.51 in July and August this year.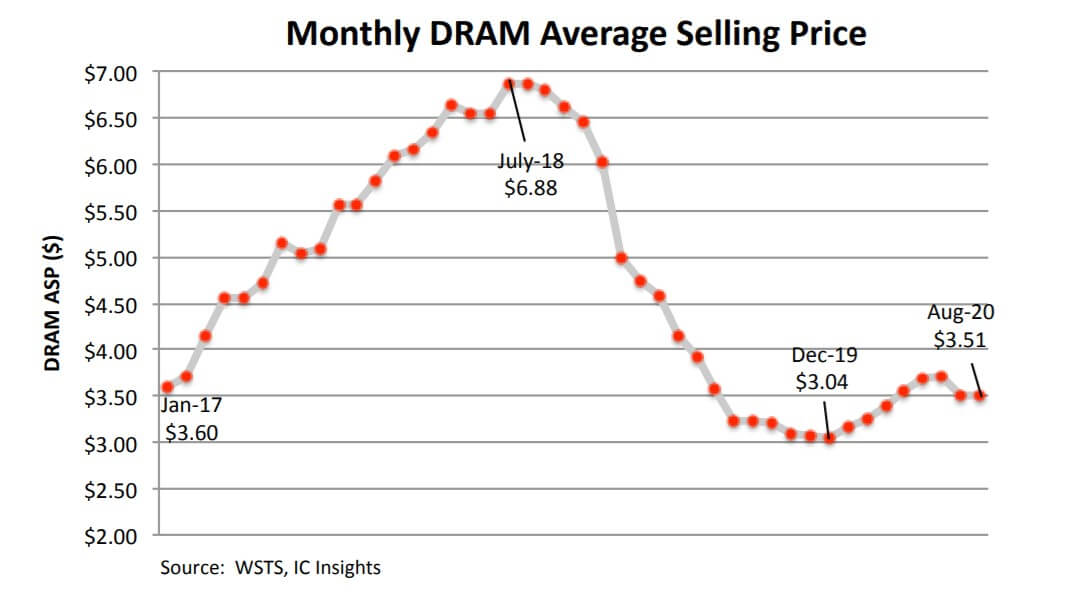 IC Insights predicts that DRAM prices will continue to decline by the end of this year, and it is expected that there will be no significant growth in December of this year. According to the analysis of the report, DRAM demand and price growth usually occur in the third and fourth quarters of each year, and coincide with the launch of new smartphones. However, the spread of the epidemic has made consumers more cautious in spending. Although the total shipments of 5G smartphones this year are expected to reach 200 million, IC Insights believes that the sales of these leading mobile phones are not enough to make DRAM suppliers' production capacity in short supply.
One segment that may provide a boost to DRAM demand late this year is the game console market. Sony and Microsoft will release their new generation game consoles before the end of 2020. Microsoft plans to debut its Xbox Series S and Series X on November 10 and Sony will release its PlayStation 5 (PS5) to select markets on November 12. DRAM suppliers are hoping that demand for the new consoles will offset some of the lost revenue they expect on account of fewer smartphone shipments.
At present, Samsung, SK Hynix and Micron expect DRAM sales to appear weak in the fourth quarter of this year and the first quarter of next year.
In Micron's case, it is banned from selling DRAM to Huawei in China due to trade restrictions that went into effect on September 15, 2020. It is believed that Huawei accounted for at least $500 million in quarterly DRAM sales for Micron, and was the primary reason for Micron's softer DRAM sales projections for the balance of this year and the first quarter of 2021. There is an outside chance that Micron could be granted a license to sell some of its products to Huawei just as Intel and AMD were granted a license to sell some of their products to the Chinese electronics giant. However, even if granted a license, Micron's 4Q20 DRAM sales would not likely benefit tremendously since Huawei ordered as much DRAM as it could ahead of the September ban in order to keep its production lines running. It is thought Huawei has about six months of DRAM inventory.
IC Insights also analyzed that with the global economic recovery and the PC server market and 5G smartphone shipments rising, these emerging markets will contribute double-digit growth for DRAM in the next three years.