After the US Department of Commerce's Bureau of Industry and Security (BIS) listed Huawei as an "entity list," companies in the United States and its allies that had business with Huawei received an internal mail requesting a ban on supply to Huawei.
According to reports, companies including ON Semiconductor, Qualcomm, Intel, ARM, etc. have received e-mails requesting that shipments to Huawei be banned, and more companies that have business dealings with Huawei will receive this ban. According to the information provided by the industry, the contents of these emails are as follows: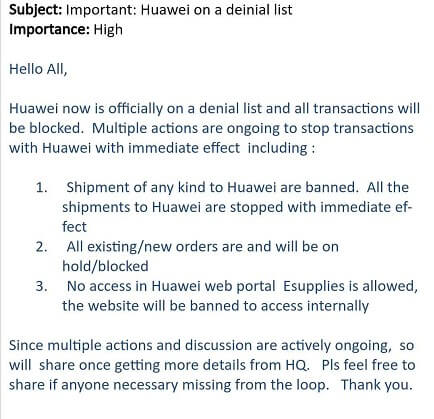 In the face of the US ban, Huawei will use Hisilicon's chip backup plan, but to ensure the stability of its supply chain is still not optimistic, Huawei needs to actively seek Chinese suppliers to achieve replacement. According to industry insiders, this will bring huge opportunities to Chinese semiconductor companies.
Take ON Semiconductor as an example. Although some semiconductor suppliers in China produce some similar products, there are very few products that can completely replace ON Semiconductor. However, Nexperia, which was acquired by Wingtech, has this capability, and Nexperia is now becoming the preferred supplier of mobile phones and other electronic devices in China.
ON Semiconductor is a major analog IC company and plays an important role in the global market. It is understood that ON Semiconductor provides products and solutions for Huawei's flagship smartphones, including tunable RF devices, power management IC solutions and protection devices. In addition, ON Semiconductor provides solutions for Huawei's solar and high-power applications.
After ON Semiconductor stopped supplying electronic components to Huawei, these components could be found in the Nexperia product line. Nexperia's products are widely used, and nearly 100 billion electronic components were sold in 2018. In terms of product categories, Nexperia has three major product categories: discrete devices, logic devices, and MOSFET devices. Its market share is among the top three in the world. Among them, Nexperia small signal transistor and diode, small signal MOS and interface protector market share is the world's first; automotive low-voltage power MOS market share is the world's second, second only to Infineon; the market share of logic devices is the third in the world. Overall, Nexperia's maturity in production capacity and process is much higher than current Chinese competitors.
Today, ON Semiconductor has received emails that stop supplying to Huawei, and TI, which is also a US manufacturer, is hard to avoid. Nexperia has the same and alternative product line as ON Semiconductor and TI, and will undoubtedly become one of the preferred choices for Huawei's alternative suppliers.
Nexperia was formerly the NXP Group's standard product division with more than 60 years of experience in the semiconductor industry. At present, Nexperia has two fabs in the UK and Germany, three packaging and testing plants in China, Malaysia and the Philippines, and an industrial equipment R&D center in the Netherlands. It has 16 sales offices throughout Asia Pacific, Europe, the Middle East and Central Asia. In 2017, Nexperia was independent from the NXP Group, and now Wingtech's acquisition of Nexperia is nearing completion.
It is worth mentioning that in addition to the three major product lines of discrete devices, logic devices and MOSFETs, Nexperia's GaN product line has also been mass-produced. In addition to replacing the analog chip supplier of Huawei mobile phones, Nexperia can also replace some components in the communication equipment.
All in all, the US ban on Huawei will undoubtedly have a certain impact on Huawei, but from another perspective, this will benefit semiconductor manufacturers in China and other countries.