TrendForce recently released its top 10 IC design company revenue rankings in 2018, according to which Broadcom, Qualcomm and Nvidia ranked first, second and third.
It is worth noting that among the top ten IC design companies, Qualcomm experienced the largest decline due to weak demand in the smartphone market, with revenue falling by 3.9%. For the same reason, MediaTek's annual revenue fell by 0.7% .
From the overall situation of the top ten IC design companies, the total revenue in 2018 has increased by a certain amount compared with 2017. This is mainly because the telecommunications infrastructure, data center and other terminal markets have maintained steady growth, and the previous mergers and acquisitions cases have also shown certain results.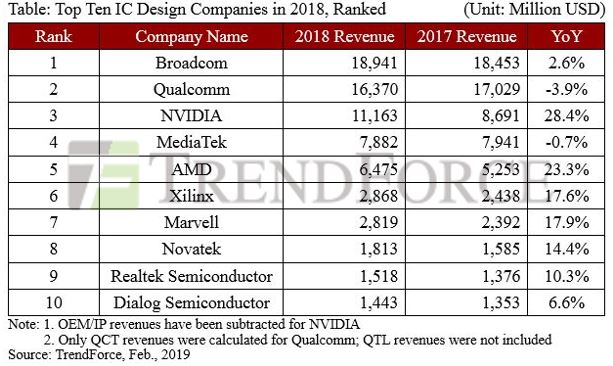 Among other companies, AMD performed well in 2018, and its annual revenue growth was second only to Nvidia, with annual revenue of 4.13 billion US dollars, an increase of 38.6% compared with the previous year. This is mainly due to AMD's advanced 7nm process in computing and graphics products, and successfully entered the server market.
However, many companies performed less than market expectations in the fourth quarter. Among them, Nvidia's revenue in the last quarter saw a sharp decline in revenue. According to analysis, Nvidia's game graphics card inventory still needs one to two quarters to be fully consumed, and then its revenue can return to normal levels.
Looking forward to 2019, analysts expect that the revenue of the top ten IC design companies will remain unclear as the smartphone market continues to decline. Analysts also said that server-side growth will be lower than 2018 in 2019, and demand for servers will continue to weaken as data centers in almost all large companies are deployed.