September 20, 2023 /SemiMedia/ -- According to a report released by SEMI recently, it is expected that by 2026, the global 200mm wafer fab capacity will increase by 14%, with 12 new 200mm wafer fabs added, reaching a record high of more than 7.7 million wafers per month.
SEMI pointed out that the fab capacity of automotive and power semiconductors will increase by 34%; MPU/MCU is expected to increase by 21%; MEMS, Analog and Foundry, respectively, are 16% and 8% and 8%.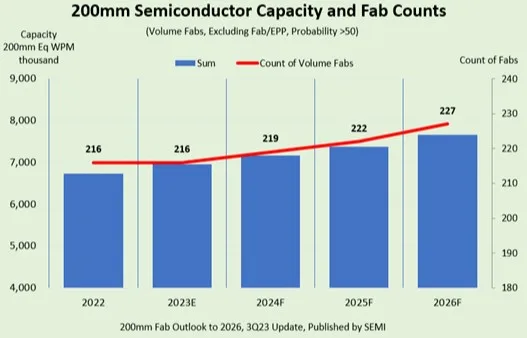 The report points out that power semiconductors are crucial to the consumer, automotive and industrial sectors and are the biggest driver of 200mm investment. In particular, the development of powertrain inverters and charging stations for electric vehicles will drive the growth of global 200mm wafer production capacity.
By region, Southeast Asia is expected to lead the growth of 200mm capacity and grow by 32% by 2026; Mainland China is expected to grow at 22% to reach more than 1.7 million wafers per month; the Americas, Europe and the Middle East, and Taiwan region will grow by 14%, 11%, and 7% respectively.