July 14, 2023 /SemiMedia/ -- According to SEMI, global sales of total semiconductor manufacturing equipment by original equipment manufacturers next year are forecast to bounce back from a projected contraction of 18.6% to $87.4 billion in 2023 following the industry record of $107.4 billion in 2022. The expected $100 billion recovery in 2024 will be driven by both front-end and back-end segments.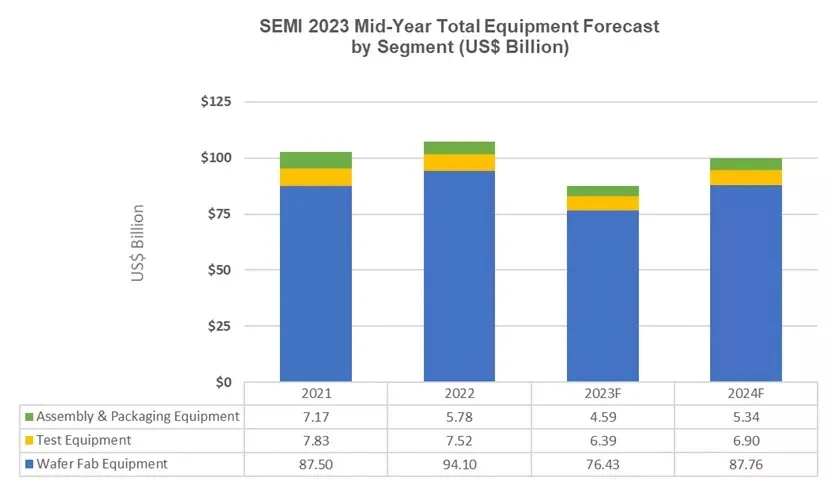 "Despite current headwinds, the semiconductor equipment market is set to see a strong rebound in 2024 after an adjustment in 2023 following a historic multi-year run," said Ajit Manocha, SEMI president and CEO. "Projections for robust long-term growth driven by high-performance computing and ubiquitous connectivity remain intact."
Semiconductor Equipment Sales by Segment
Sales of wafer fab equipment, which includes wafer processing, fab facilities and mask/reticle equipment, are projected to decrease 18.8% to $76.4 billion in 2023 – more than the 16.8% decline predicted by SEMI in the 2022 year-end forecast. The wafer fab equipment segment is projected to account for the bulk of the recovery to $100 billion in 2024, generating $87.8 billion in sales, a 14.8% increase.
The 2022 decline in back-end equipment segment sales is expected to continue in 2023 due to challenging macroeconomic conditions and softening semiconductor demand. Semiconductor test equipment market sales are projected to contract by 15% to $6.4 billion in 2023, while assembly and packaging equipment sales are expected to drop by 20.5% to $4.6 billion in the same year. However, the test equipment and assembly and packaging equipment segments are expected to expand by 7.9% and 16.4%, respectively, in 2024.
Semiconductor Equipment Sales by Application
Equipment sales for foundry and logic applications, accounting for more than half of total wafer fab equipment receipts, are expected to drop 6% year-over-year to $50.1 billion in 2023, reflecting softer end-market conditions. Demand for leading-edge foundry and logic in 2023 is expected to remain stable, with a slight softening balanced out by a rise in spending on mature nodes. Foundry and logic investments are projected to increase 3% in 2024.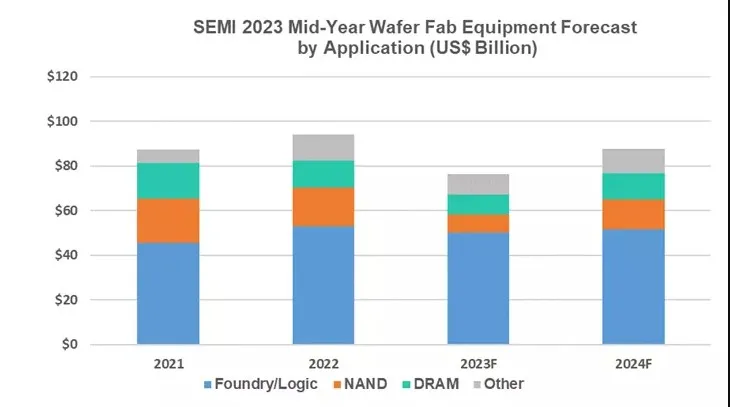 DRAM equipment sales are expected to fall 28% to $8.8 billion in 2023 due to continuing weak consumer and enterprise demand for memory and storage but rebound 31% to $11.6 billion in 2024. NAND equipment sales are projected to decrease 51% to $8.4 billion in 2023 and surge 59% to $13.3 billion in 2024.
For more information on the report or to purchase, please visit https://www.semi.org/en/products-services/market-data/emds.