Nov. 24, 2022 /SemiMedia/ -- According to a report recently released by Omdia, the global semiconductor market in the third quarter of this year was $147 billion, down 7% from $158 billion in the second quarter.
Due to the increased demand for consumer electronics and semiconductor products during the epidemic, the global semiconductor market has expanded for eight consecutive quarters since 2020, but the market began to shrink in the second quarter of this year.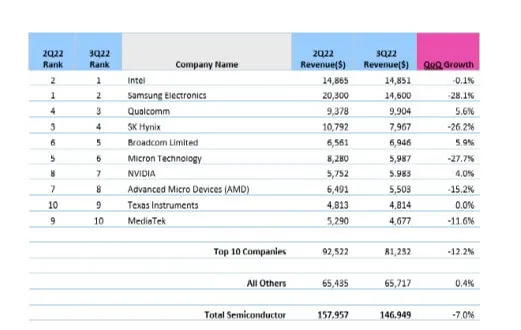 Omdia said that the market decline in the second quarter was mainly due to the weakness in the PC market, while the decline in the third quarter was due to the weakness in the memory market. Profits in the memory market fell 27% from the previous quarter, Omdia noted, due to inventory adjustments by customers and lower demand for chips for data centers, PCs and mobile devices.
In terms of rankings, Intel ranked first with sales of $14.9 billion; Samsung Electronics ranked second due to the weak memory market, with sales of $14.6 billion, down 28.1% from the second quarter; Qualcomm ranked third with sales of $9.9 billion, an increase of 5.6% from the previous quarter; SK Hynix dropped from third place in the previous quarter to fourth place, with a sales drop of more than 26%; Micron's sales also fell by 27.7%, ranking fifth.
It is worth noting that Omdia's ranking of semiconductor companies does not include pure foundry companies such as TSMC.