The market share of semiconductor top suppliers has increased year by year
January 15th, IC Insights released the latest semiconductor industry report. According to the report, the world's top 10 semiconductor companies accounted for 60% of the global semiconductor market share in 2018, up 15% from 45% in 2008; the top 5 semiconductor suppliers in the world accounted for 47% of the 2018 semiconductor total sales, an increase of 14% over 10 years ago. In the past decade, the global semiconductor giants' market share has increased significantly.
Overall, the top 50 semiconductor suppliers in 2018 accounted for 89% of the global semiconductor market total of $514.1 billion last year, an increase of 7% from 82% in 2008.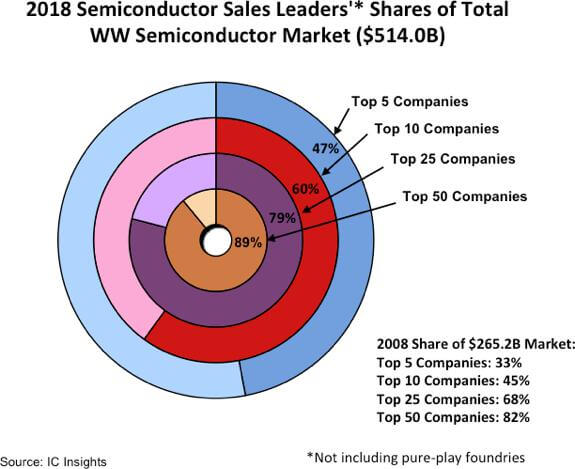 Compared with 2008, the top 5, top 10 and top 25 companies in the global semiconductor market in 2018 increased their share by 14%, 15% and 11% respectively. IC Insights believes that a series of mergers and acquisitions are expected in the next few years, and these integrations will increase the market share of top semiconductor suppliers to a higher level.