According to the latest report of IC Insights, the combined sales of the top five semiconductor producers in the world accounted for about 43% of the overall market in 2017. This figure is an increase of 10% from a decade ago. IC Insights pointed out that last year the world's top five chip producers (excluding foundry industry) were: Samsung, Intel, SK Hynix, Micron, and Broadcom.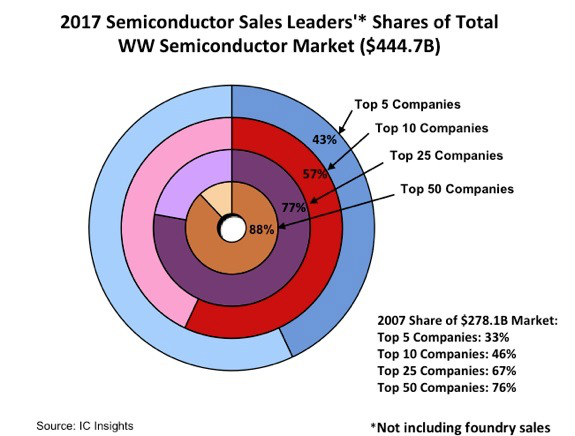 These five semiconductor producers occupy nearly half of the market share, this tells the truth that the trend of the market concentrating in the hands of few companies. Sales growth rates of Samsung, Hynix and Micron in 2017 were all over 50%, mainly because the DRAM and NAND flash memory markets grew by 77% and 47% respectively.
The boom in the memory market will eventually subside, and most market watchers expect this market's growth to slow down this year. However, IC Insights believes that the continued ramping of M&A in the IC industry will also increase the market share of leading semiconductor makers in to a higher level.
Rob Lineback, senior analyst at IC Insights, said that the increase in the market share of large wafer suppliers is also due to the fact that "large companies often have deep financial resources and can continue to expand and grow even during the technology costs become higher. And it will be difficult for small and medium-sized chip makers to survive in the long-term competition."