According to the latest forecast from IC Insights, the total revenue of optoelectronics, sensors/actuators, and discrete components (O-S-D) in 2019 will hit a record highr for the 10th consecutive year and will continue to rise in 2020 and 2021.
IC Insights points out that O-S-D products will account for around 19% of global semiconductor sales in 2019, and integrated circuits will account for 81% of the overall semiconductor market this year. According to the latest market data, sales of the six O-S-D product categories will reach record highs in 2019.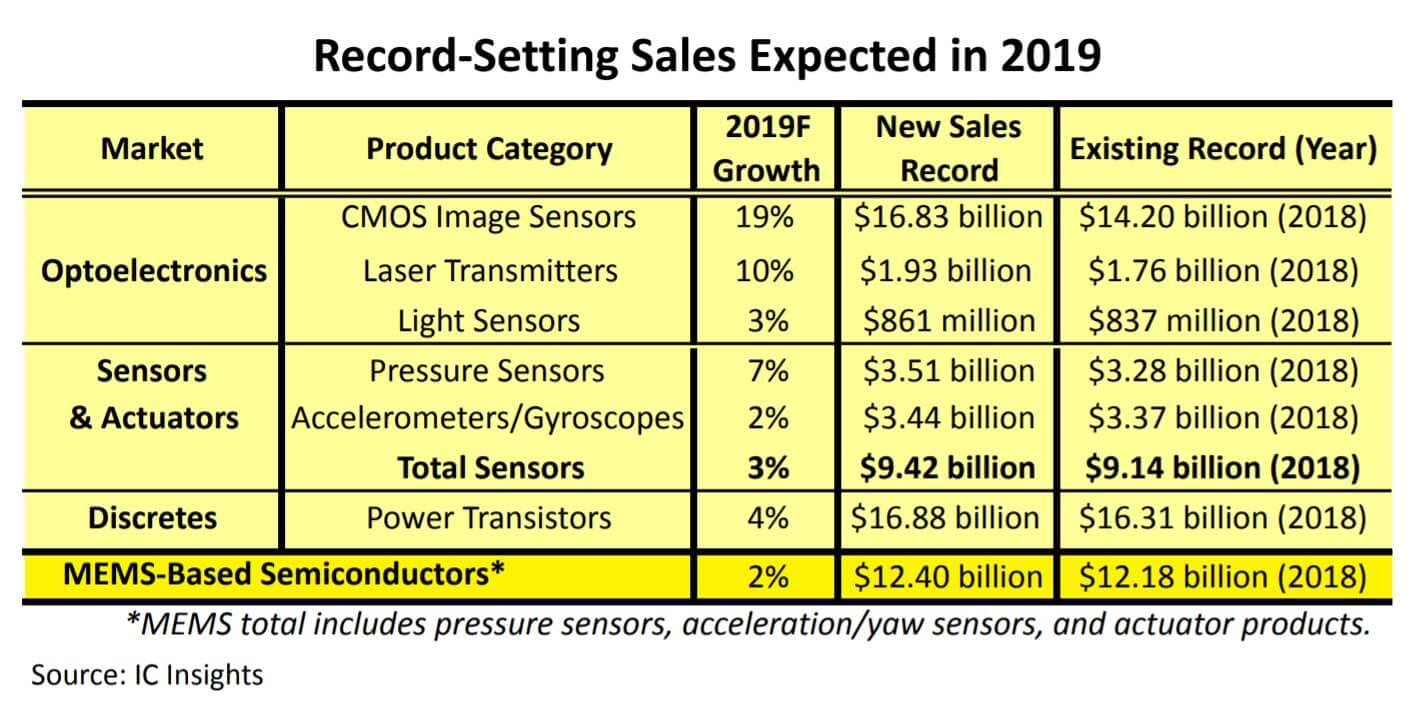 According to IC Insights, as the global economy slows and the trade war between China and the US, system manufacturers begin to reduce inventories, and O-S-D's consolidated sales in 2019 will grow 1% to $83.5 billion.
Optoelectronics sales are expected to increase by about 3% in 2019 to set a record-high $41.5 billion, with strong growth in CMOS image sensors and laser transmitters offsetting declines in light-emitting diodes (LEDs), optical couplers, charge-coupled device (CCD) image sensors, infrared devices, and other products in this market segment. Sensor/actuator sales are projected to be up by just 1% in 2019, which will lift revenues to an all-time high of $14.9 billion, but the increase would be greater if significant price erosion was not canceling out strong double-digit percentage growth in unit shipments this year. The commodity-filled discretes market is forecast to drop 1% in 2019 to $27.1 billion with power transistors being the only product category in this segment growing in the year.
IC Insights believes that sales in the OSD market will grow in 2020 and 2021, in part due to modest improvements in the global economy and new technologies such as face recognition, 3D sensing, machine vision, automation of automated controls, embedded artificial intelligence (AI), 5G networks, the popularity of autonomous driving, and the electrification of automobiles.