According to IC Insights, automotive electronics sales will increase by 7% in 2018 and will increase by 6.3% next year. Sales of automotive electronics will be the highest in the six major semiconductor terminal applications.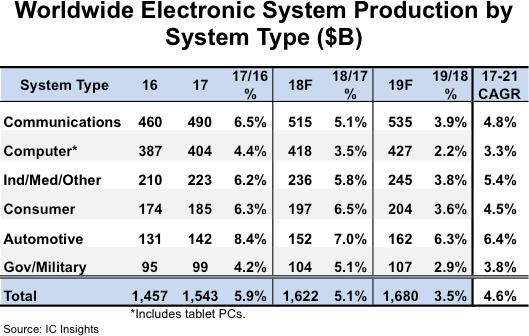 According to the chart above, sales related to automotive electronics in 2018 are expected to increase from $142 billion in 2017 to $152 billion, and are expected to increase to $162 billion next year. In addition, according to the latest survey by IC Insights, the compound annual growth rate of automotive electronics from 2017 to 2021 is expected to reach 6.4%, again surpassing all other terminal application categories.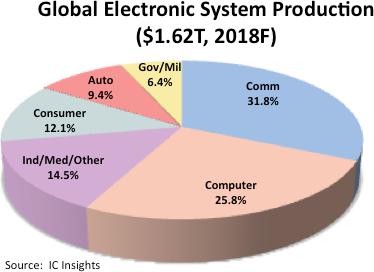 Overall, the global electronics market totaled $1.62 trillion in 2018, with automotive electronics accounting for 9.4%, up from 9.1% last year. Over the years, the automotive industry has been experiencing a gradual increase. IC Insights expects that by 2021, the percentage of automotive electronics in the overall electronics market will continue to increase, reaching 9.9%. Although at present, the market share of automotive electronics is small this year, it will be the fastest growing segment by 2021.
Although some traffic accidents involving autonomous occurred this year, these accidents were mainly due to technical errors. At present, automotive electronics mainly focuses on autonomous driving, ADAS, vehicle-to-vehicle communication (V2V), vehicle safety, convenience and environmental characteristics, which will help to enhance the entire automotive electronics market.
It is worth noting that the special logic components for vehicles will increase by 29% this year, second only to the DRAM market. IC Insights expects this year's analog component market for automotive applications such as spare cameras, lane departure detectors and other intelligent systems will grow by 14%, and such applications will be added to more vehicles in different ways.