STMicroelectronics has introduced a new high-voltage transmit pulse generator solution, the STHV1600, which is compact, robust and cost-effective.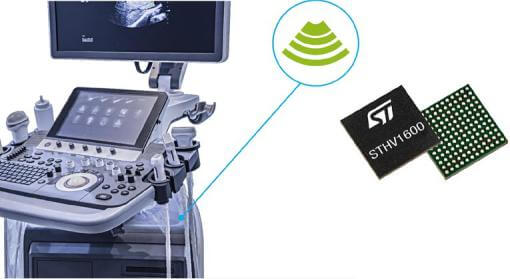 The STHV1600 provides an updated pulse generator solution for high-end ultrasound imaging trolley systems and ultra-portable ultrasound diagnostic equipment manufacturers, at the same time, the STMicroelectronics 4-channel and 8-channel pulse transmitter portfolio has also been optimized by this device. To ensure that the chip has the smallest size on the market, the STHV1600 integrates high-resolution beamforming technology into its 16 independent channels. The Coded Excitation Setup feature allows the user to implement a high voltage pulse train and save the burst waveform control settings in memory. For maximum flexibility, each channel supports up to five output levels, and the output stage can output up to ±2A of peak current.
The STHV1600 offers a number of comprehensive protection features including logic circuit overtemperature protection and independent overtemperature protection for each channel; undervoltage protection; self-biased high voltage MOSFET gate drivers with internal inspection. In addition, the new pulse generator includes 65 kbits of embedded memory for storing pulse waveform control settings.
The STHV1600 is currently in the process of providing samples to major customers. The evaluation board STEVAL-IME014V1 of the STHV1600 is currently only available to some customers. For more information on this product, please refer to ST's official website: www.stmicroelectronics.com