COVID-19's impact on component supply is increasing
As the COVID-19 pandemic spreads globally, the challenges to the production and distribution of electronic components have become severe. Since last week, more and more manufacturers have issued announcements explaining the impact of the COVID-19.
As of today, the manufacturers who have publicly announced the announcement include AVX, Cypress, Infineon, Littelfuse, Nexperia, On Semiconductor, ROHM, Renesas, Vishay, etc. Based on these announcements, SemiMedia summarizes the general situation as shown below.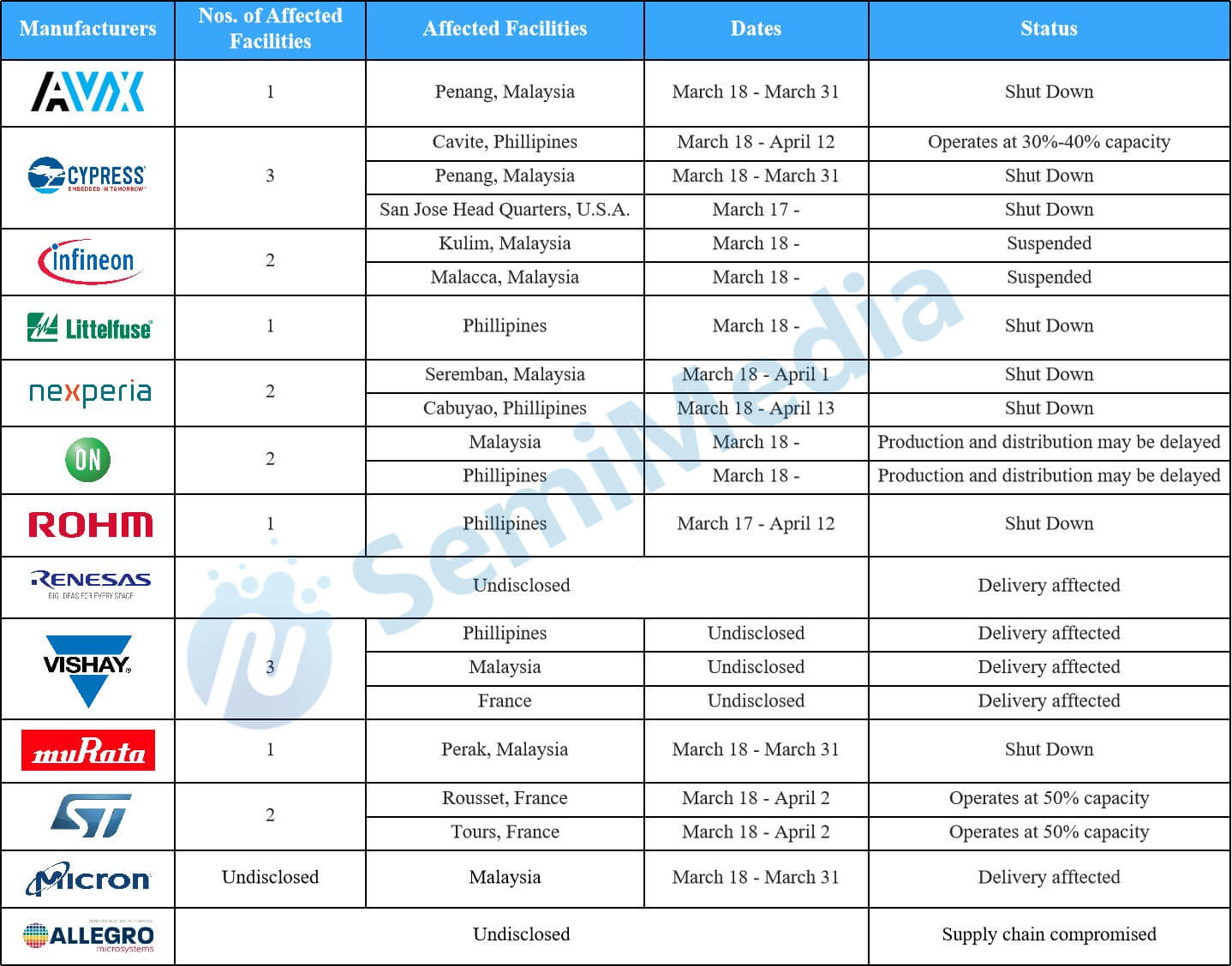 The key contents of the announcements of the above mentioned manufacturers are as follows:
As of today, we can confirm that 29 of our facilities are in operation.We were notified from the Malaysia government that our Penang facility has to close March 18th to March 31th. Even we do expect an impact out of this closure, we do have alternative manufacturing capabilities available and will update our valuable customers on a regular base on their order backlog.
Cavite Philippines (CML) Facility: The Philippine Government has issued an Enhanced Community Quarantine Over Luzon from March 18 through Aprl 12, 2020. This order has directly impacted our operations and staff in Cavite, and as a result, we are operating at 30-40% of normal capacity. Although our distribution center has also been impacted, Cypress continues to have capability to fulfill and ship customer orders. Logistics networks in to and out of the Philippines have been directly impacted by this order as well. We expect reduced airfreight capacity and extended transit delays in to and out of this location to continue.
Penang, Malaysia Facility: The Malaysian prime minister has implemented a Movement of Control Order under the Prevention and Control of Infectious Diseases Act of 1988 and the Police Act of 1967, from March 18 through March 31, 2020. This order will have minimal impact to our customers. Cypress Penang primarily fulfills Known Good Die (KGD) from this site. Prior to this order, all Q1 shipments had already been released. We will continue to monitor the situation and will further advise customers if we believe this shutdown will impact Q2 orders.
San Jose, CA, U.S.A. Facility: A joint legal order announced on March 16,2020, directs residents in Alameda, San Mateo, Contra Costa, Marin, San Francisco and Santa Clara counties to shelter at home for three weeks beginning Tuesday, March 17, 2020. Our Cypress San Jose Headquarters are now closed with only critical security. IT and facilities personnel reporting on-site. All other employees are now required to work from home.
The Malaysian government has granted an exemption for the Electronic & Electrical sector, inciuding Semiconductors, to continue operations. This is subject to the fulfillment of several conditions. Once these conditions are fulfilled we are planning to resume production which most likely will happen over the next days at our two manufacturing locations in Malaysia, Kulim and Malacca.
Our top priority remains the health and safety of our associates. In compliance with directives from the Philippines government, Littelfuse has temporarily shut down its manufacturing operations in the Philippines. Our management team in the Philippines is working closely with government officials for additional clarity on these requirements.
Following strict and binding government regulations, our facilities in Seremban (Malaysia) and Cabuyao (Philippines) need to temporarily suspend operation for manufacturing and shipping. We have started to ship out available inventory from both locations for customer demand of the coming 2 weeks before the suspension becomes active, which means that our customers will receive the goods well ahead of time. The restart of the facility in Seremban is currently planned for April 1, depending on government updates. The restart of the facility in Cabuyao is currently planned for April 13.
Our facilities in Malaysia and the Philippines remain operational in compliance with applicable government restrictions. We are currently assessing production and distribution delays based on this unanticipated viral outbreak, keeping in mind that the situation remains fluid.
Several countries has now decided to order a mandatory shutdown of any non-essential activities and businesses to address the Covid-19 outbreak. As such, the Malaysia government have implemented the Movement Control Order from Wednesday (March 18) until March 31. Please note that these dates are subject to change and the suspension of production and shipments may be extended further or may extend to additional Renesas subsidiaries depending upon the changing conditions in each countries and other locations and/or additional orders from the individual local governments. We must also notify that these orders from these countries are likely to adversely affect the delivery situation for our customers while we need more time to have clarity regarding the expected delays.
Due to the worldwide spreading of the new Coronavirus, the authorities in each country have announced new policies which has resulted in ROHM and our outsourcing companies having to suspend the operation of factories in the Philippines.
New rules are now expected to cause operational issues at Vishay facilities in the Philippines, Malaysia, and France that will impact deliveries on a number of product lines. Your local Vishay Sales Representative can provide additional details regarding the situation on your particular orders.
As of March 18, 2020, the Asian semiconductor supply chain has been severely disrupted. Allegro and its contractors are complying with government mandated "shelter-in-place" restrictions placed in the Philippines and Malaysia, two countries which have a significant bearing on the semiconductor supply chain. Our supply chain has been severely compromised, and we anticipate fulfillment disruptions while we navigate through this situation.
An industry source said that due to the temporary closure of these factories, most of the devices produced by the affected production lines will have an extended lead time. Although the global demand for electronic components declined during the COVID-19 pandemic, as China's electronics manufacturers have gradually resumed production, it is expected that there will still be an imbalance between supply and demand in the short term. In addition, due to the different prevention and control measures adopted by different countries, there is great uncertainty about how the pandemic will develop in the future. Therefore, the long-term impact of COVID-19 on the electronic component industry needs further observation.
The article is originally written by @SemiMediaEdit posted on SemiMedia. All rights reserved.