According to a recent report from Gartner, global electronics manufacturers' purchases of semiconductors in 2019 were $ 418.302 billion, down 11.9% from 2018.
It is reported that Xiaomi was the only OEM that increased the amount of chip purchases last year among the top ten global semiconductor buyers. Its chip spending increased by 1.4% over the previous year to reach USD 7.016 billion. In addition, Huawei's chip purchases fell by 1.8% in 2019 to reach $ 20.8 billion, although Huawei has been added to the Entity List by the US, which has greatly affected Huawei's mobile phone business outside China. However, Huawei is still ranked third in the semiconductor spending ranking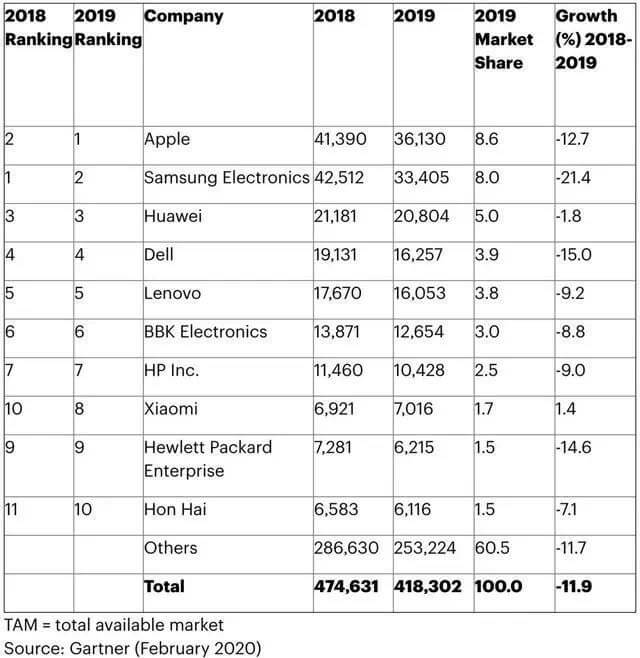 "The top five companies have not changed from 2018, but they have all reduced chip spending in 2019. The main reason is that memory prices have fallen sharply. Memory prices were extremely high in 2018, which is a heavy burden for many OEMs, accounting for 45% of the total chip spending. However, this situation has improved in 2019. The top five buyers in 2019 reduced the share of memory spending to 36%, while improving the computing performance of their products with better processors and larger memory capacity." said Masatsune Yamaji, senior principal analyst at Gartner.
In addition, in recent weeks, the outbreak of the novel coronavirus has impacted the stock price of semiconductor manufacturers, and several companies have announced that they will not participate in this year's Mobile World Congress (MWC). However, the industry generally believes that although this uncertainty has an impact on overall procurement this year, the impact should not be too large. In addition, the demand for 5G mobile phones from mobile phone manufacturers will rise this year, so the overall semiconductor procurement demand will not be too low.