According to the latest report from IC Insights, the number of DRAM suppliers has dropped from 20 in the mid-1990s to 6 now. The three largest suppliers, Samsung, SK Hynix, and Micron, together account for 94% of the DRAM market in 2021. Last year, Samsung and SK Hynix accounted for 71.3% of global DRAM sales.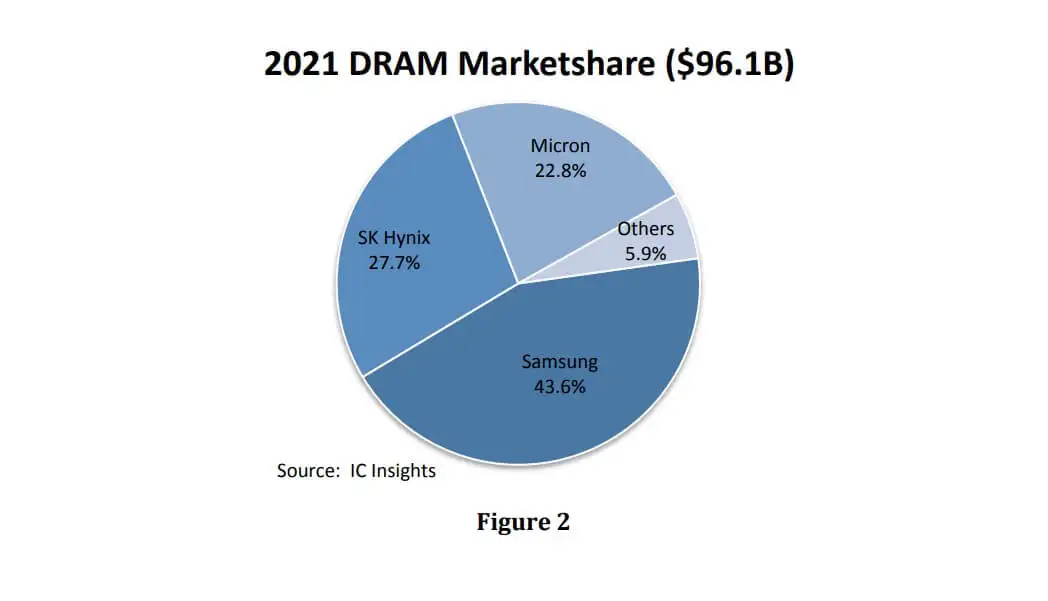 With 44% marketshare, Samsung remained the world's largest DRAM supplier in 2021 with sales that reached nearly $41.9 billion, according to the report. Samsung advanced its DRAM business on several fronts last year.
Ranked second and accounting for 28% DRAM marketshare in 2021 was SK Hynix, whose DRAM sales increased 39% to $26.6 billion. DRAM accounted for about 71% of the company's total 2021 semiconductor sales. Its total DRAM sales were split: server DRAM, 40%; mobile DRAM, 35%; 15% from PC DRAM; and consumer and graphics DRAM each accounted for 5%.
Micron was the third-largest DRAM supplier in 2021, with sales of $21.9 billion. Micron's DRAM sales increased 41% and accounted for 23% of global marketshare. On the whole, DRAM accounted for about 73% of Micron's total calendar year IC sales of $30.0 billion.