Electronic component supply affected by city lockdown in Southeast Asia
In the past month, the COVID-19 pandemic broke out globally. With the spread of the coronavirus, more and more countries and cities announced closures, including Southeast Asian countries.
According to report, the lockdown period of the Philippine capital Manila is from March 15 to April 14. Until now, the Philippines has locked down 17 cities. The industry is therefore worried that Murata and Samsung, which have considerable MLCC production capacity in the Philippines, may be affected.
According to reports, Murata and Samsung, the world's top two MLCC producers, each have 15% and 40% of their production capacity in the Philippines. The industry believes that with the current low inventory levels and the EMS factories in mainland China gradually returning to production, the supply of MLCC may be even tighter than before.
In addition, Malaysia also announced on March 16 that in order to strengthen the pandemic prevention and control, it has decided to take stricter restrictions for two weeks nationwide from March 18 to March 31.
According to report, resistor makers Walsin and Ralec (One of the world's top 3 resistor manufacturers) both have factories in Malaysia. Among them, Walsin's production capacity in Malaysia is mainly for automotive resistors, while the production capacity of Ralec's Malaysia plant accounts for about 40%-50% of the group's resistor total production capacity.
In addition to Walsin and Ralec, passive component makers with factories in Malaysia include Murata, Nichicon, Nippon Chemi-Con, Panasonic, and others. In addition to the restrictions affecting shipments, the Malaysian government also required production lines to be shut down for two weeks. At present, Malaysia's local chip inductor manufacturer AOBA has issued a factory closure announcement.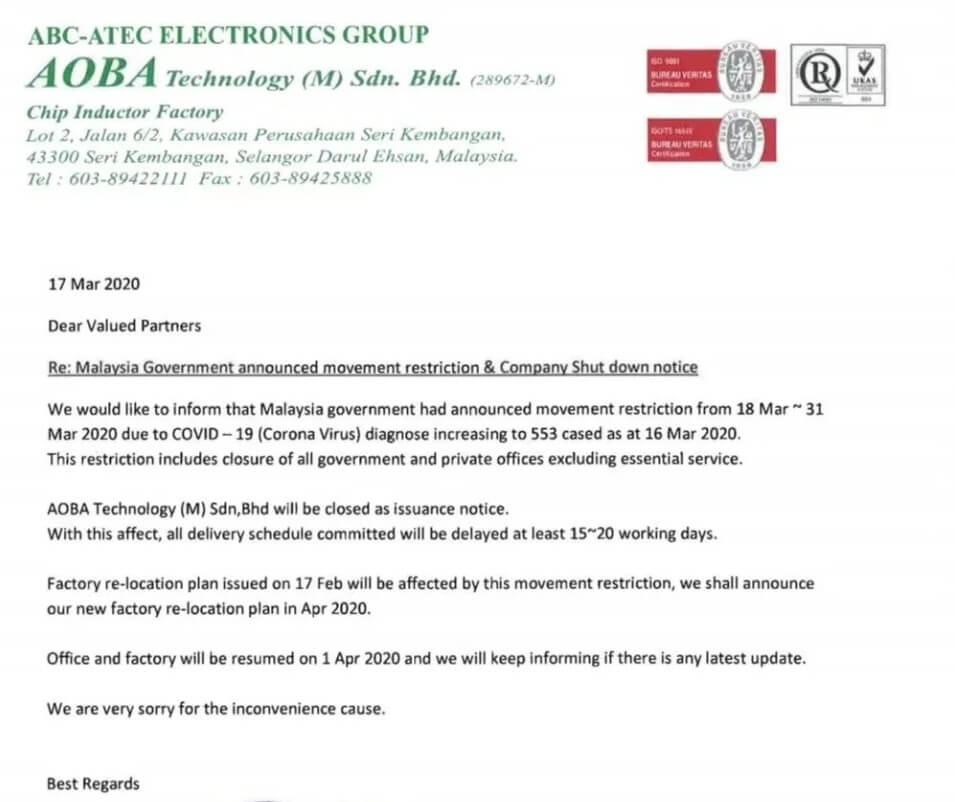 In terms of active components, a supply chain insider recently said that affected by the COVID-19 pandemic, ON Semiconductor closed factories in Malaysia and the Philippines, which will affect the supply of IGBT / MOS products. In order to reduce the impact of supply on their customers' production, ON Semiconductor's authorized distributors are continuously pulling in to ensure stable supply to key customers.
Since many electronic component manufacturers have set up factories in Southeast Asia, the recent lockdown in this region will have a certain impact on the supply of electronic components. In terms of passive components, as Murata, Samsung and Yageo occupy more than 60% of the market share, the tight supply of any of them will have a significant impact on the global market. Therefore, the industry predicts that MLCC producers may raise prices again in the second quarter.
The article is originally written by @SemiMediaEdit posted on SemiMedia. All rights reserved.