Top 10 analog IC suppliers in 2018
According to the latest report from IC Insights on May 10, Texas Instruments' sales of analog products in 2018 increased to $10.8 billion, continuing to strengthen its position as the world's top analog IC supplier.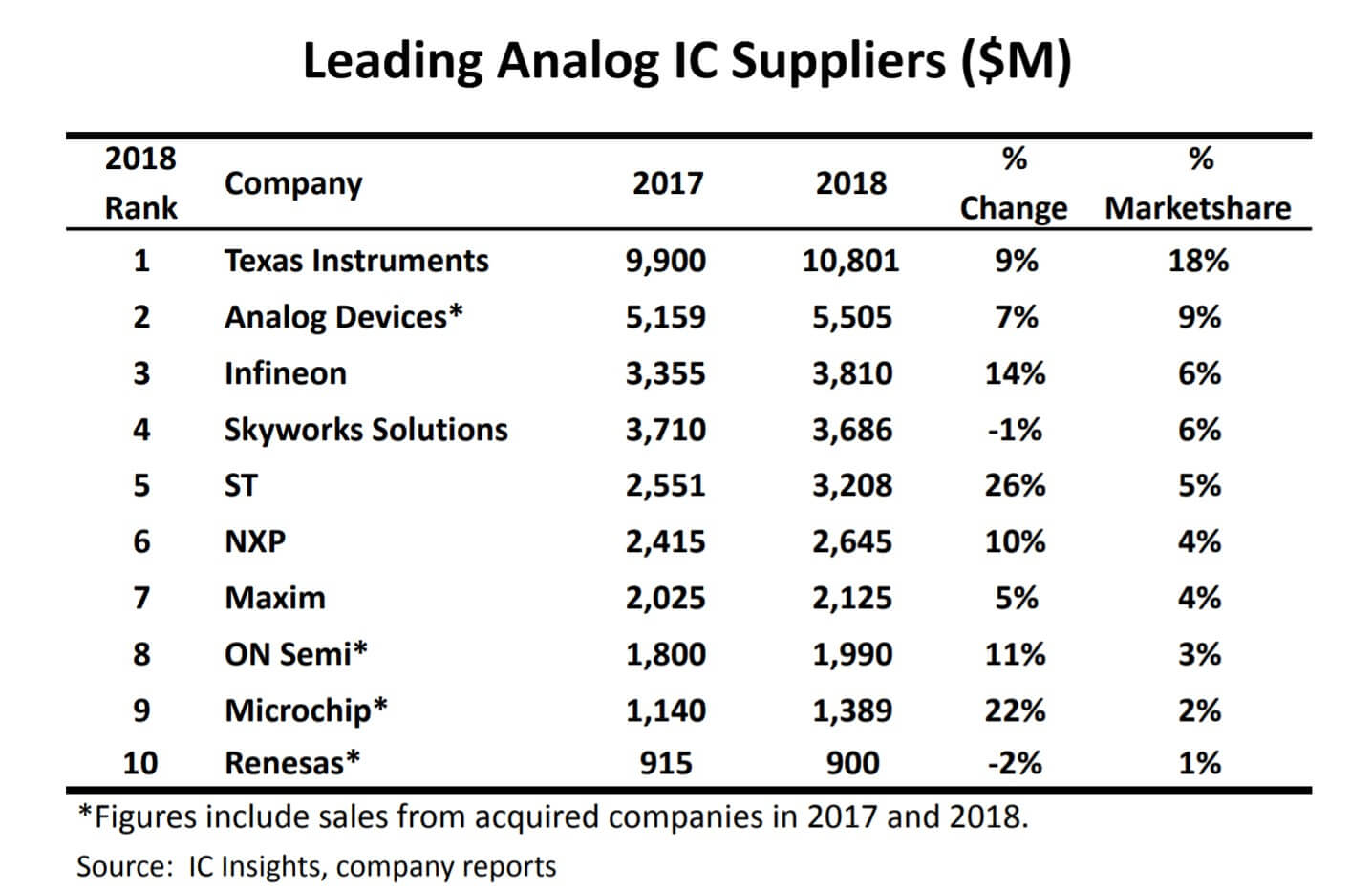 With a sales of $10.8 billion and a market share of 18%, Texas Instruments continues to lead. According to IC Insights, Texas Instruments' sales of analog products in 2018 increased by $900 million, almost double that of the second-ranked Analog Devices, and 10 times more than Renesas Electronics. Texas Instruments' analog product revenue in 2018 accounted for 78% of IC's $13.9 billion in sales, and 72% of its total semiconductor revenue of $14.9 billion.
In terms of applications, Texas Instruments' main targets are industrial applications (36% of revenue in 2018), personal electronics (23% of revenue in 2018), and automotive applications (20% of its analog product revenue). Texas Instruments said that these three areas are highly profitable. It's worth noting that industrial and automotive applications accounted for 56% of Texas Instruments' total revenue last year, which was only 42% five years ago.
The second-ranked ADI's analog IC sales rose 7% last year to $5.5 billion. ADI's revenue includes sales from Linear Technology. In 2018, none of ADI's customers accounted for more than 10% of total sales. Prior to this, ADI's largest customer, Apple, accounted for 14% and 12% of its 2017 and 2016 total revenue, respectively.
Infineon ranked third, with sales of its analog products growing 14% to $3.8 billion, accounting for 6% of the market. Infineon continues to expand its business in automotive (43% of sales in 2018) and power management (31% in sales in 2018), while industrial power control and safety applications account for 17% and 9% respectively.
ST's analog product sales increased 26% to $3.2 billion (5% market share) and grew the most among the top 10 analog product suppliers. Most of ST's analog IC sales targets are motion control (motor drive ICs and high voltage drive ICs), automation (smart power switches) and energy management applications.
NXP's sales increased 10% to $2.6 billion (4% market share). NXP sells its analog devices to many system functions, but one of its main growth areas is automotive, whose analog chips are an essential component in emerging LiDAR, vehicle networks and 5G systems.
ON Semiconductor's analog product sales increased 11% to $2 billion, accounting for 3% of the market. ON Semiconductor's analog products achieved strong growth for three consecutive years, with sales growth in 2016, 2017 and 2018 of 16%, 35% and 11%, respectively, part of the reason is that the On Semiconductor acquired Fairchild Semiconductor in September 2016. In addition, ON Semiconductor also sells a number of power management products in the automotive market, particularly for active safety, powertrain, body electronics and lighting applications.
Microchip Technology's analog IC sales increased 22% in 2018. In May 2018, Microchip acquired Microsemi for $8.35 billion, driving Microchip's analog business in computing and communications applications.
The article is originally written by @SemiMediaEdit posted on SemiMedia. All rights reserved.