Samsung announces car product sub-brands, which may affect market share of NXP and ON Semiconductor
On October 16, Samsung Semiconductor announced the launch of two automotive application solutions brands: Samsung Exynos Auto and Samsung ISOCELL Auto. Exynos Auto is the line of automotive processors, and ISOCELL Auto is the line of automotive image sensors.
Since the establishment of the auto parts division in 2015, Samsung Semiconductor has been accelerating its development. Including the acquisition of Harman for $8 billion in 2016, the first autonomous driving license in Korea in 2017, the DRVLINE platform in conjunction with Harman in January 2018, the establishment of an autonomous driving R&D team in August 2018, and the launch of two Sub-brands this time.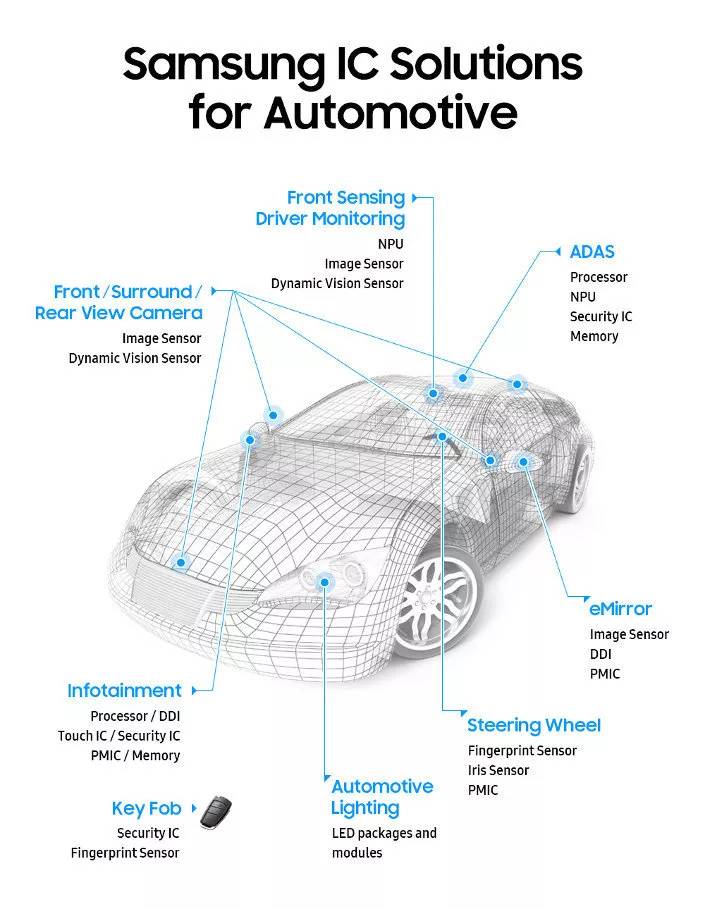 From the three automotive-grade image sensors available on Samsung's official website, they all support a wide dynamic range of 120 decibels and support a working environment of -40°C to 105°C. The highest of the three models supports 7.4 megapixels and the frame rate of up to 40 frames per second in a wide dynamic range. This model is a new standard for Sony, representing the highest level of current automotive image sensor technology which in mass production. In the field of automotive image sensors, ON Semiconductor's market share is about 50%. After the accelerated development of Samsung and Sony, the position of ON Semiconductor in this market may be affected.
According to Samsung, its in-vehicle processor products will be planned in three directions, Exynos Auto V for infotainment systems; Exynos Auto A for autonomous driving and advanced driver assistance; and Exynos Auto T for in-vehicle communications. Among them, the car infotainment application should be the most accessible market for Samsung. On the one hand, the infotainment system is not relevant to driving safety, and the functional safety requirements are low, it is the field that newcomers usually choose to focus on; on the other hand, one of the main directions of Harman is the in-vehicle infotainment system business, which will become the best experimental field for Samsung's automotive chips.
According to industry sources, Qualcomm has also chosen the direction of in-vehicle infotainment for automotive applications, and has now made major breakthroughs. Its latest in-vehicle processor, the Snapdragon 820A, has been adopted by several car manufacturers. Moreover, traditional car processor manufacturers do not have the accumulation of Qualcomm and Samsung in the field of communications, the promotion of car networking will help Qualcomm and Samsung open a new world in the automotive field. The development of Samsung and Qualcomm will put pressure on traditional car processor manufacturers such as NXP, Renesas and Texas Instruments.
After Samsung announced its formal entry into the automotive market, its strong R&D capabilities and market development capabilities will affect the market share of other semiconductor manufacturers focused on automotive electronics to a certain extent.