2018 Global DRAM and NAND price trend analysis
In 2017, the semiconductor industry achieved a record high, with revenue exceeding 400 billion U.S. dollars. With the increasing use of electronic components, especially in the fields of mobile and data centers, the overall demand for semiconductor devices is strong throughout the year.
Recently, the market research organization Yole Développement released a quarterly memory-related report, saying that in the past year, DRAM and NAND have made great contributions to the memory market, and will achieve similar success in 2018, the memory market will be expected to account for 2018 More than one-third of the total semiconductor revenue, which greatly exceeds the historical average of about 25%.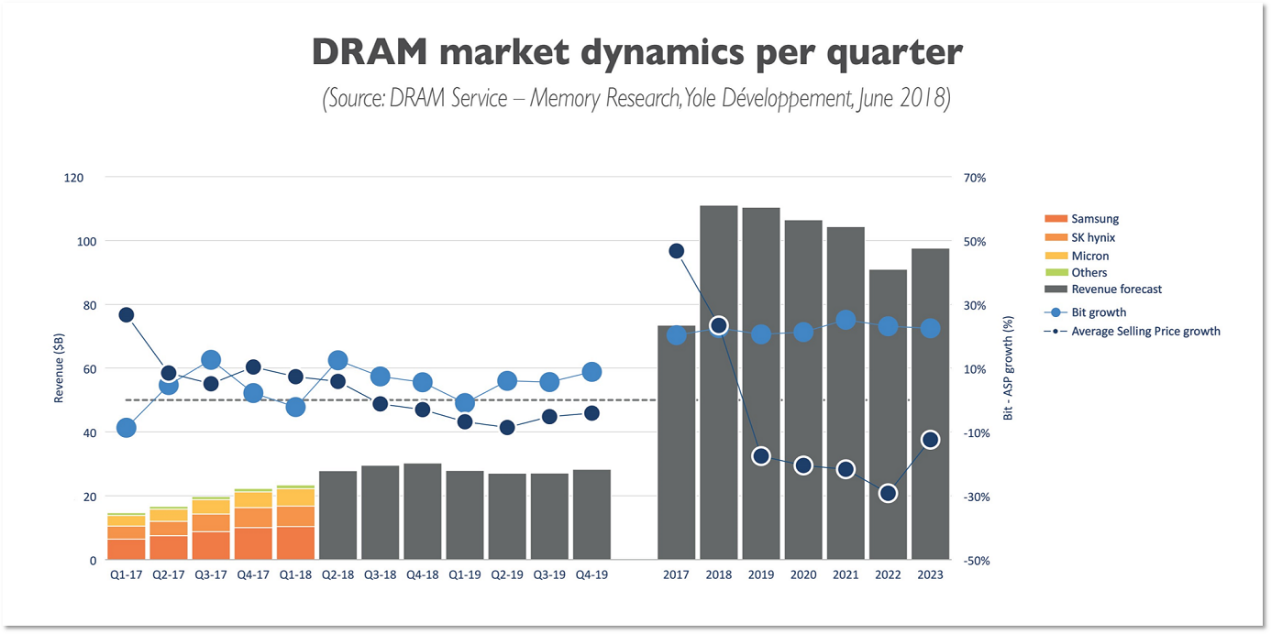 Source: Yole Développement
DRAM prices rise 23%
According to the growth trend in 2017, DRAM prices are expected to increase by 23% in 2018 (the price in the first half of the year has risen by 33%). In addition, shipments are expected to increase by 22%.
The key requirements for DRAM are mobile and data centers, where mobile demand is almost 40%, and data center demand is about 25%. These demands caused DRAM revenue to increase by 51% from $73 billion to $111 billion.
NAND price dropped slightly 
Yole expects the NAND prices to drop by 15% in 2018, while shipments are expected to increase by 45%. In addition, revenue is expected to increase by 23% from $54 billion to $66 billion.
Some of the key requirements are similar to DRAM, with mobile accounting for approximately 36% of demand, data center (enterprise SSD) accounting for approximately 21% of demand, and PC (client SSD) accounting for approximately 24% of demand. It is expected that overall SSD demand will reach approximately 45% of NAND's total demand.
The competitive landscape of NAND is still very active. Samsung is investing in the construction of a new fab in Pingze City; Intel is becoming an important supplier in the Chinese market; Toshiba's memory business confirmed sales to a consortium led by Bain Capital.
Global competition landscape will be changed
Yole said that China's investment in the memory sector, such as Yangtze Memory Technologies Co., Ltd. (YMTC), will likely undermine the current competition landscape.
In addition to mobile phones, data centers, and SSDs, artificial intelligence and the Internet of Things are expected to become strong demand drivers for the memory market, starting in 2018 and extending to the future. Although the emergence of edge computing will reduce the memory capacity of each device, the substantial increase in overall devices will result in huge memory chip requirements.
Although China may affect the competition in the memory market, it still takes several years to go. So far, China has invested billions of dollars to promote the development of the memory industry. For example, YMTC's NAND products will enter the memory market, and several new products will be launched by the end of 2018/early 2019. But Yole believes that YMTC will still take several years to catch up with the established players.
In addition, Fujian Jinhua Integrated Circuit Co., Ltd. (JHICC) and newcomer Hefei Changxin have made some progress in the development of memory chips. Hefei Changxin hopes to launch the first independent research and development DRAM chip by the end of this year, and JHICC is expected to officially put mass production in August 2018.
Overall, the memory market structure in recent years will basically maintain the current situation. According to Yole's forecast, DRAM prices will rise by 23% in 2018, and NAND prices will drop by 15%.
The article is originally written by @SemiMediaEdit posted on SemiMedia. All rights reserved.