Analog Devices ranked second in the global semiconductor market
According to IHS Markit, ADI ranked second in the global semiconductor market in 2017, the ranking much higher than 2016, mainly due to the acquisition of Linear Technology in 2017. Texas Instruments remains the leading supplier of industrial chips. The top 10 suppliers after TI and ADI were: Intel, Infineon, STMicroelectronics, Micron Technology, Toshiba, Microchip, ON Semiconductor and NXP Semiconductors.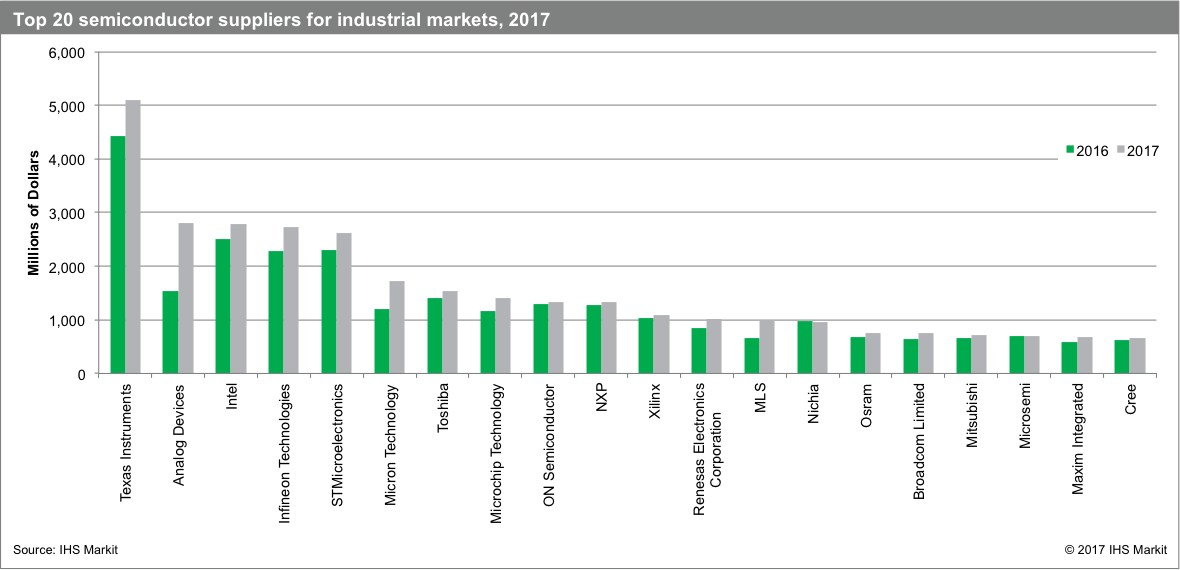 According to IHS, overall, the industrial semiconductor market grew by 11.8% last year to reach 49.1 billion U.S. dollars. The company said that the demand for industrial equipment is wide, commercial and military aircraft, LED lighting, digital signage, digital video surveillance and other markets are all continuing to grow.
Robbie Galoso, deputy director of IHS Markit and principal analyst at Industrial Semiconductor, said in a statement: "The economic recovery in the United States and strong demand from China accounted for a large share of industrial equipment demand in 2017. "
IHS predicts that by 2022, the industrial chip market will continue to grow at a compound annual growth rate of 7.1%.
The article is originally written by @SemiMediaEdit posted on SemiMedia. All rights reserved.