Arrow Electronics recently announced its new quarterly earnings report last week. In the first quarter of 2018, sales were $6.88 billion, an increase of 20% over the $5.74 billion in sales for the same period in 2017. Among them, global component business unit sales amounted to US$4.93 billion, which was a year-on-year increase of 21%. All three regions exceeded expectations and achieved a record double-digit growth. Sales in Europe increased by 32% and achieved continuous growth for 20 quarters, while the Asia Pacific region grew by 20%, achieving double-digit growth for seven consecutive quarters. Sales in the Americas increased by 15%.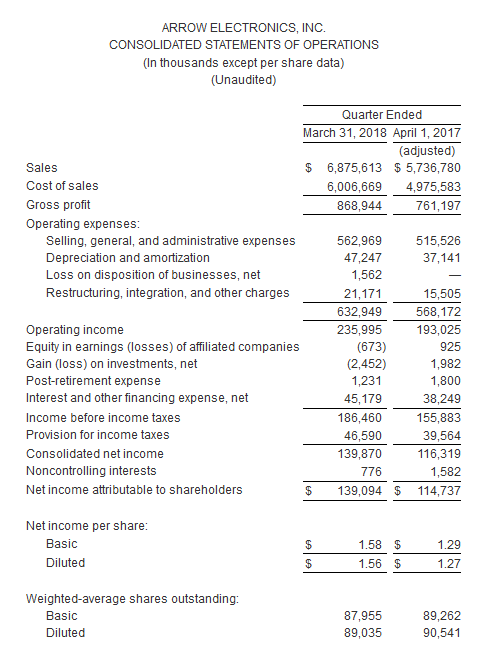 Andy King, president of Arrow Electronics' global electronic components division, said that due to the full use of last year's growth momentum and strong long-term strategy, the performance in the first quarter of this year has achieved remarkable results.
The global enterprise computing solutions division achieved sales of $1.95 billion in the first quarter, an increase of 16% year-on-year. Sales in the Americas increased by 9% year-on-year. European sales increased by 29% year-on-year.
"Value-added resellers and management service providers are pushing their business to Arrow because of our leadership in new technologies, including cloud, security, and software-defined data center solutions," Chairman, President, and Chief, Arrow Electronics Executive Officer Michael Long said.
Looking forward to the second quarter, Arrow's total sales are expected to be between US$7 billion and US$7.4 billion, sales of global components business will be between US$5 billion and US$5.2 billion, and sales of global enterprise computing solutions will be between US$200 million and US$2.2 billion.